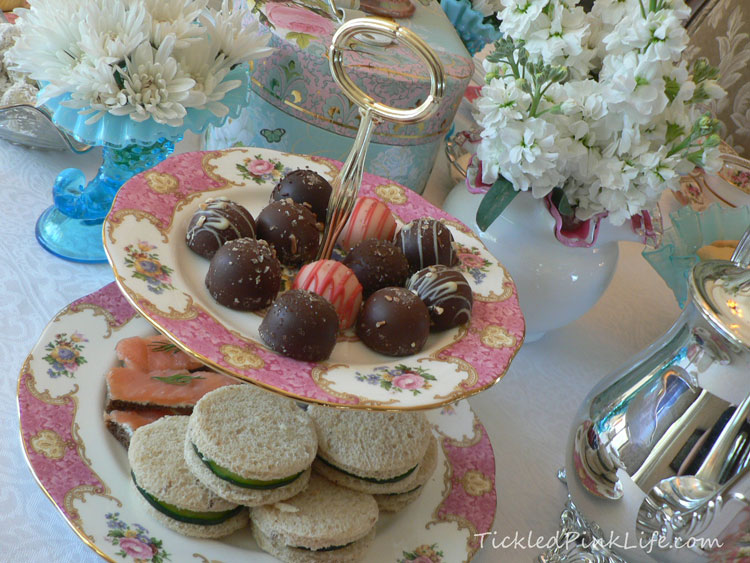 Collecting vintage porcelain is a passion of mine and two of my favorite colors are raspberry and aquamarine. I'm especially fond of the vibrant pink rose and the turquoise blue found on eighteenth century French porcelain made by Sevres. These pieces are exquisite but also very expensive, so the only Sevres porcelain I've seen in person has been in museums! Fortunately, other manufacturers like Minton and R.S. Prussia used similar colors in their some of their designs, so I've been able to collect some lovely blue and pink pieces over the years. One day it dawned on me that I might have enough pieces in this color scheme, to host a small tea! What great fun it was to design this table for my guests.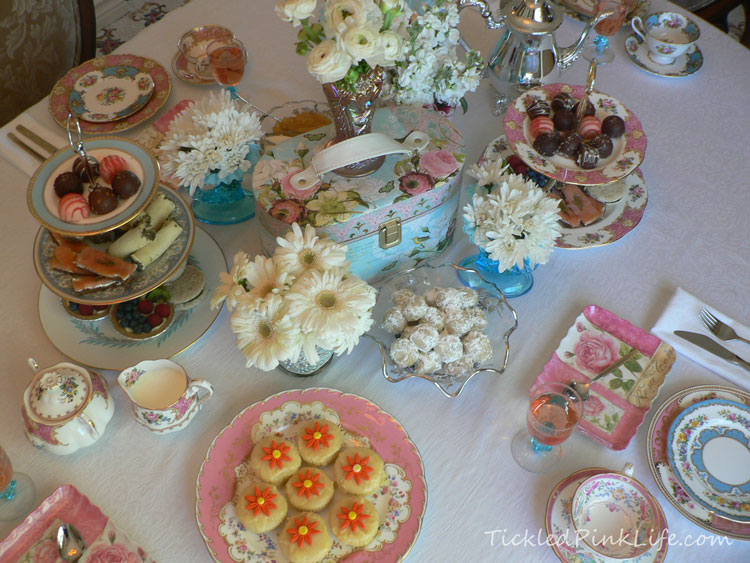 Vintage glass vases feature monochromatic bouquets of gerbera daisies, ranunculus, stocks and mums. The center vase is a pink iridized Carnival glass from L.E. Smith Company and features a pinwheel pattern. The white tablecloth and napkins were made by Waterford Linens.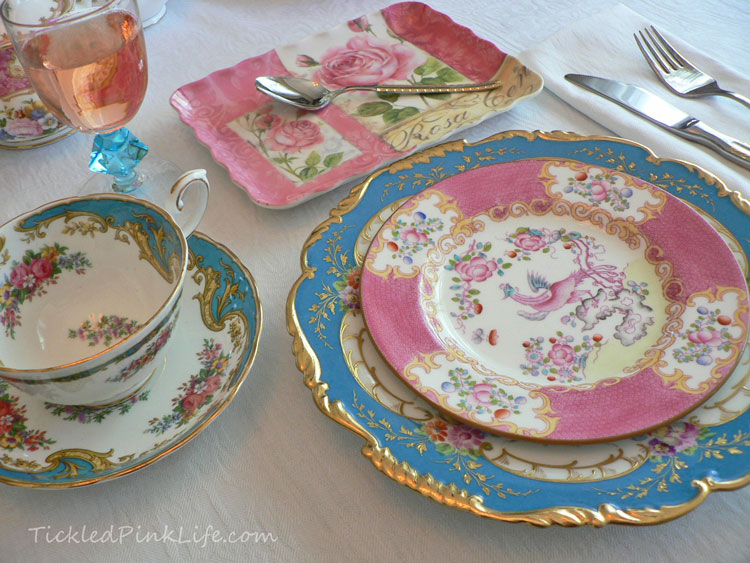 For each place setting I used alternating colors of pink and blue. The bread plate was made by Minton in the pattern Cockatrice, and the luncheon plate is a Dresden Richard Klemm design. The cup and saucer were made by Tuscan, and the pattern is Naples.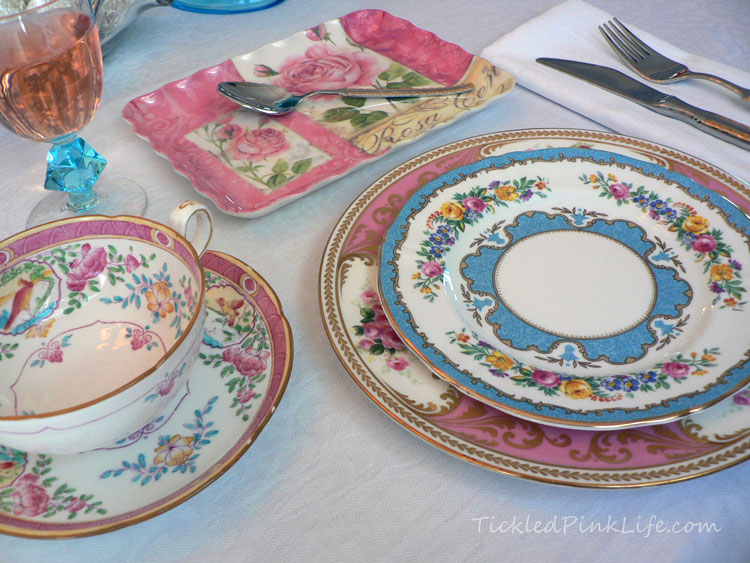 This place setting features a bread plate made by Crown Staffordshire in the pattern Lyric, and a luncheon plate made by George Jones & Sons. The cup and saucer were made by Mintons.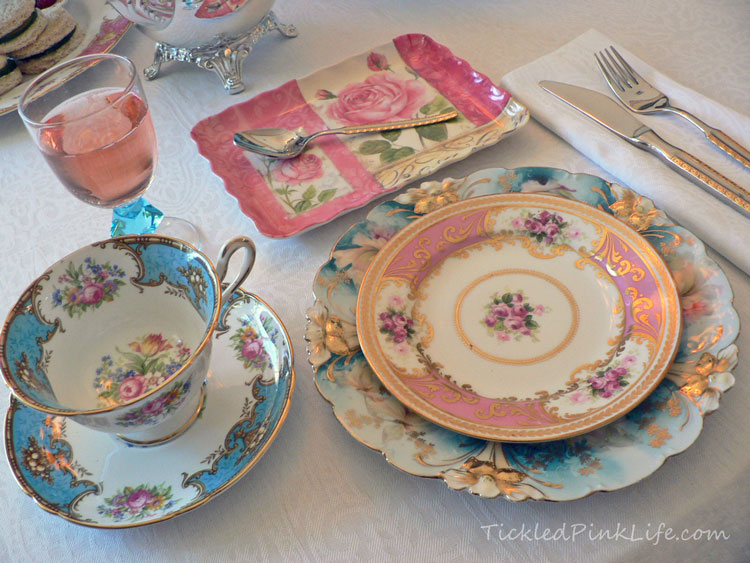 The cup and saucer set used for this place setting was made by Shelley in the pattern Duchess. The bread plate was made by George Jones & Sons, and the luncheon plate is an R.S. Prussia, lily mold, with a yellow rose décor.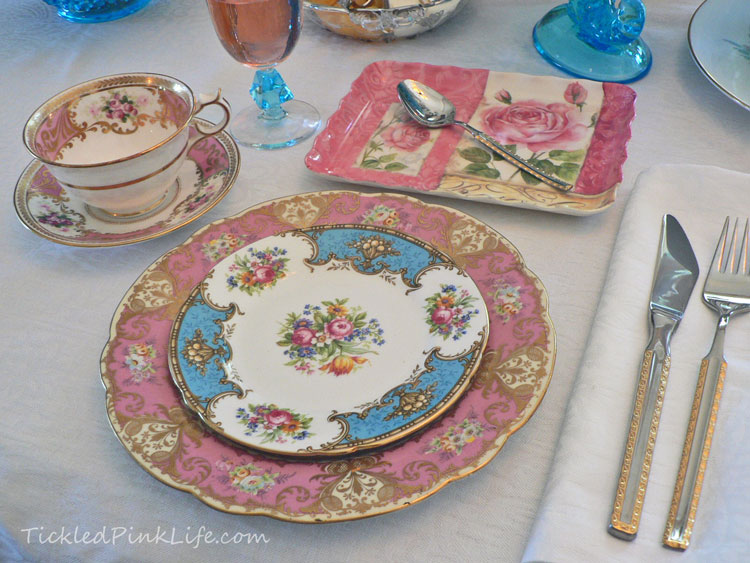 For the fourth place setting, I used a Shelley bread plate in the pattern Duchess, and an Imperial Crown China luncheon plate. The cup and saucer were made by George Jones & Sons. The flatware was made by Hoogosil H. Solingen in Germany.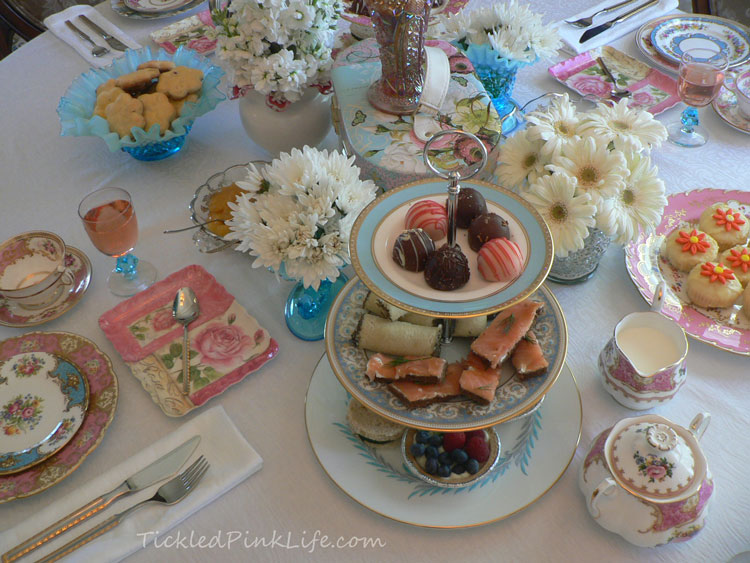 A tiered server holds truffles from Harry and David.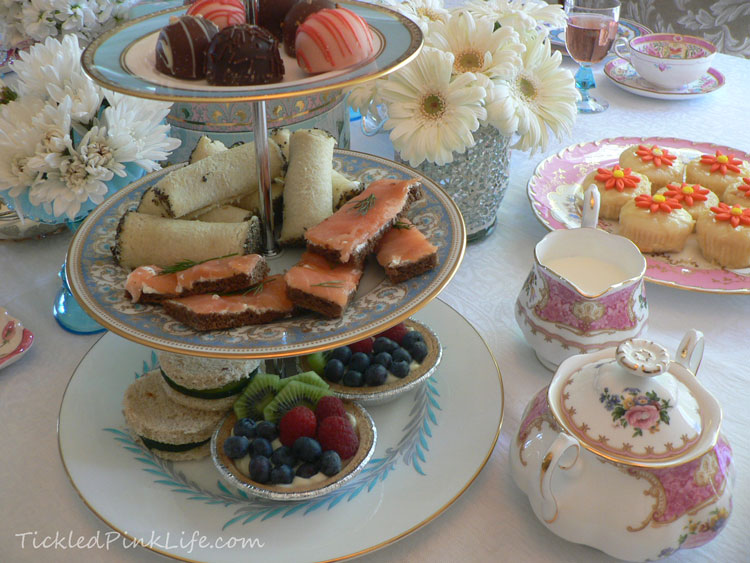 Assorted tea sandwiches and fruit tarts complete the presentation on this vintage china server. The top tier plate is a Royal Crown Derby, in the pattern Fifth Avenue. The middle tier is a Noritake plate, in the pattern Polonaise, and the bottom tier plate was made by Minton, in the pattern Malta. The cream and sugar set are Royal Albert, and the pattern is Lady Carlyle.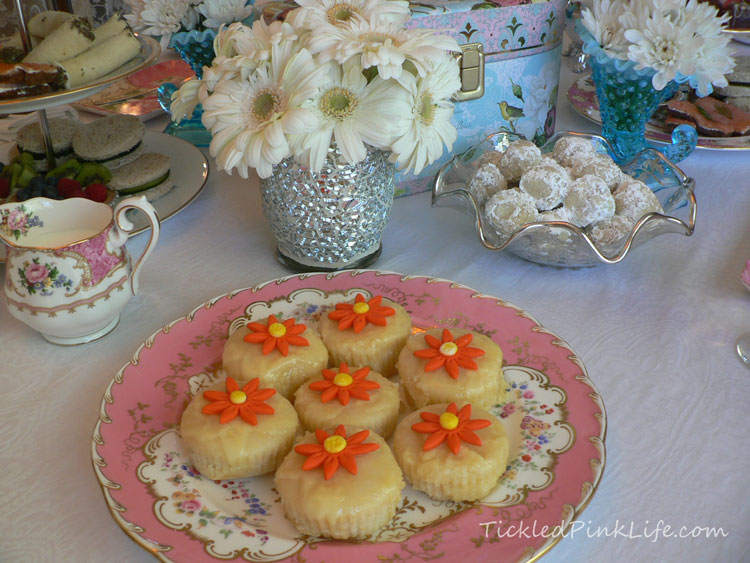 This lovely vintage plate holds vanilla cupcakes with orange icing and fondant flowers. The hand painted pink charger was made by Minton.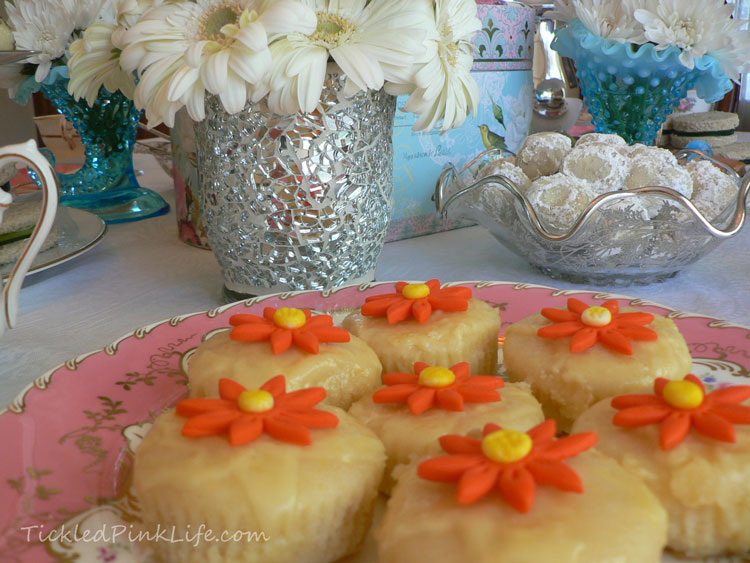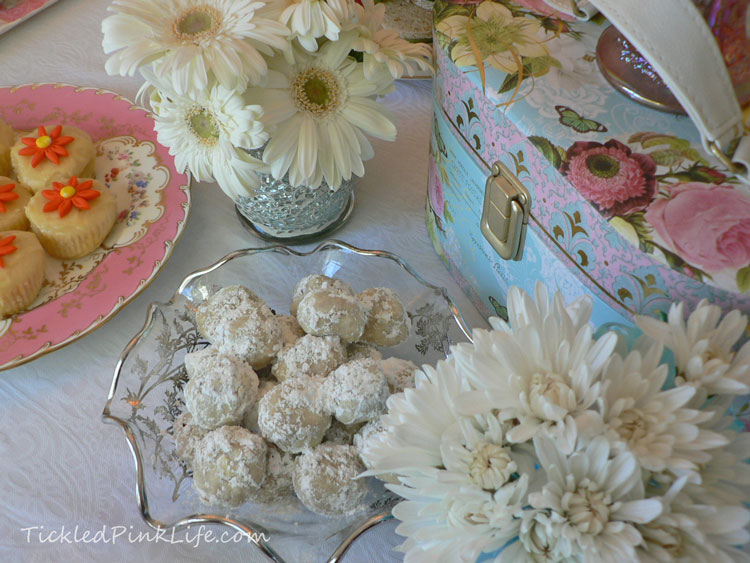 Pecan melts fill this vintage glass bowl decorated with a silver poppy overlay. The bowl was made by Silver City Glass, in a pattern called Flanders. I used a pink and blue floral travel case as part of the centerpiece. It is designed by Paula Scaletta, for Tri-Coastal Design.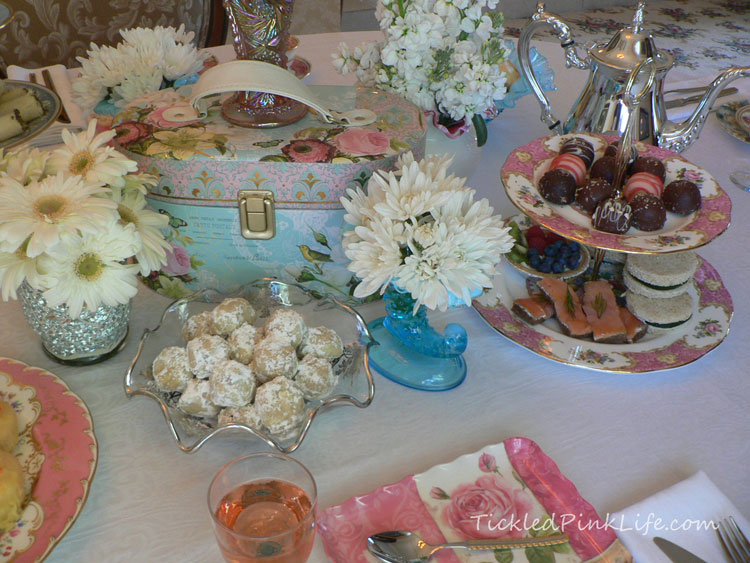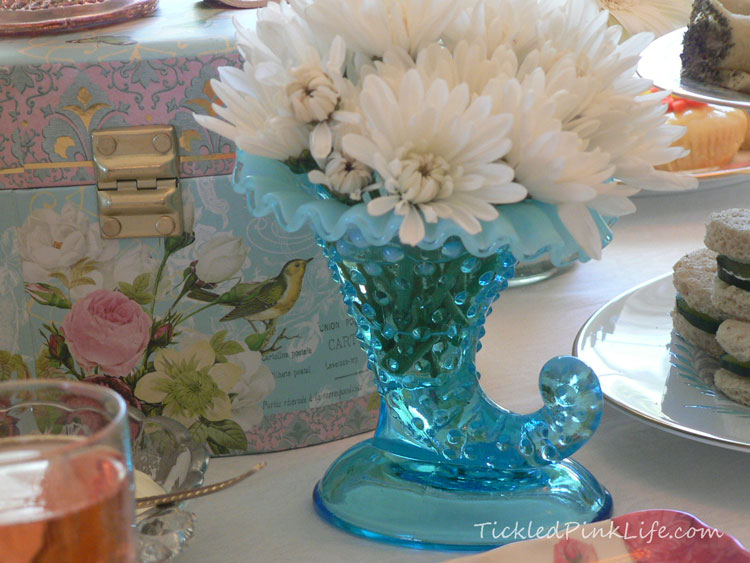 Blue Fenton hobnail candle holders were used as vases for bouquets of white mums.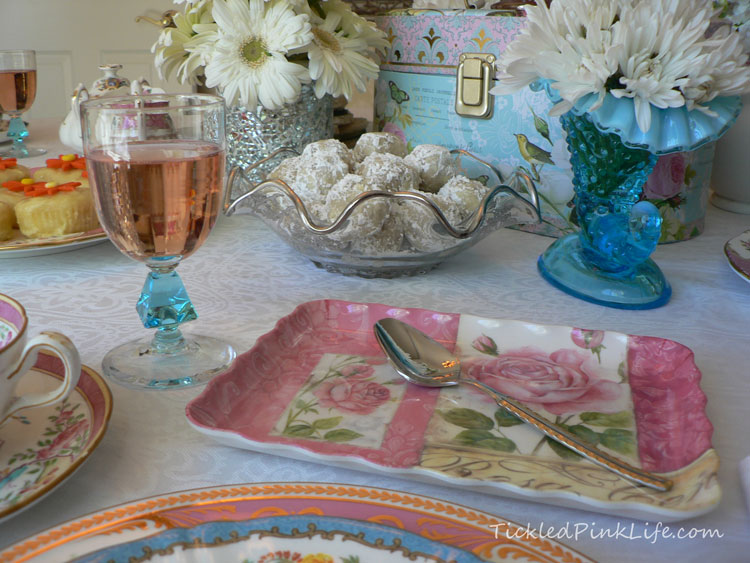 Aquamarine art Deco-styled crystal glasses hold pink champagne. These were made by Bryce Glass, and the pattern is called Aquarius-Blue. The pink floral spoon trays were distributed by Momentum Brands.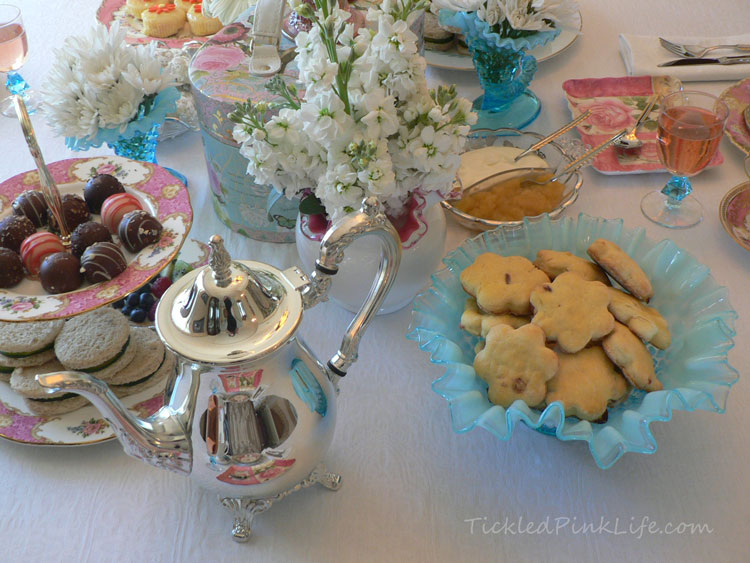 A blue Fenton hobnail bowl holds flower-shaped cranberry scones. The silver tea service was made by Oneida. The tiered server is Royal Albert in the pattern Lady Carlyle, and a Fenton Silvercrest cranberry glass vase holds a bouquet of white stock. The Devonshire cream and lemon curd are served in a vintage glass and silver floral condiment dish.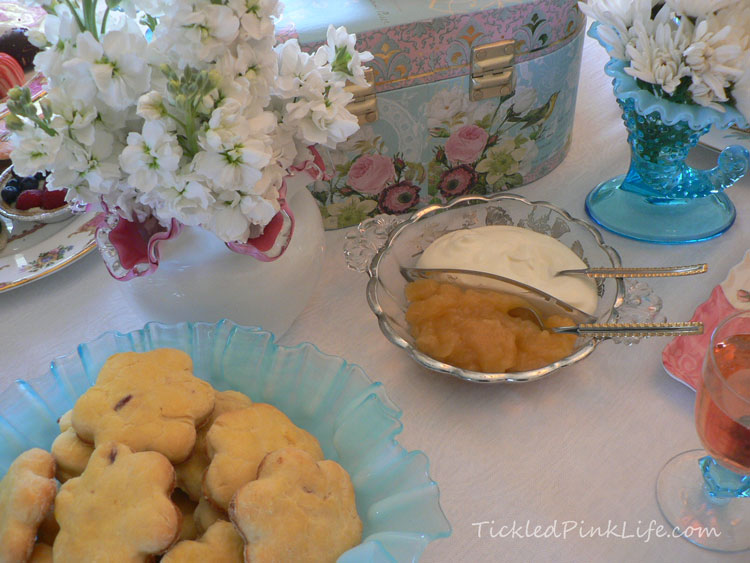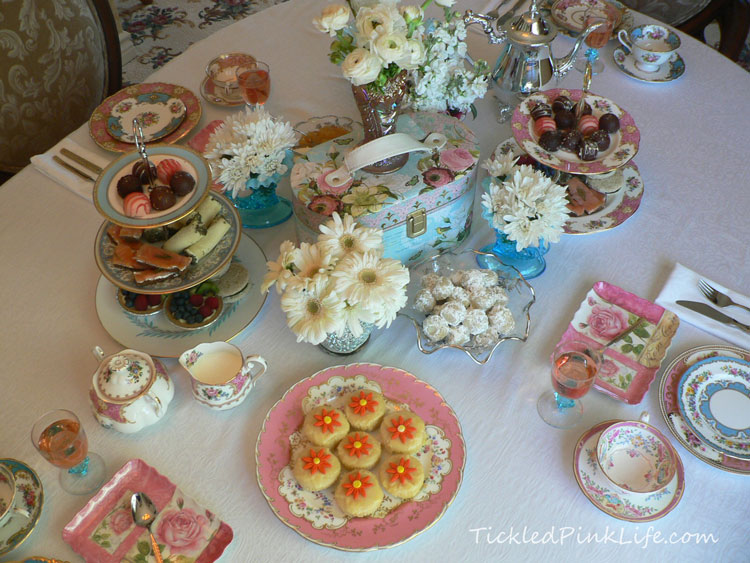 I hope these pictures and links provide great ideas for you to use when you host your next tea!
I'm linking up today for Pink Saturday!
On the journey toward Home,