Last week, as I mentioned in my previous post, a landscape contractor was at my house digging trenches, installing drainage and repairing my archaic sprinkler system. While the procedure was mostly painless on my part (aside from the rather large check I had to write), he and his crew worked for six days in my yard in 100 degree heat. He ran through each one of the irrigation stations and painstakingly noted which sprinkler heads were watering correctly and which needed replacing. This resulted in the placement of many colorful little flags generously displayed throughout the yard. They were in the grass. They were along the sidewalk. They were in planters and in bushes. One would have thought I was welcoming a United Nations delegation of those little Playskool people…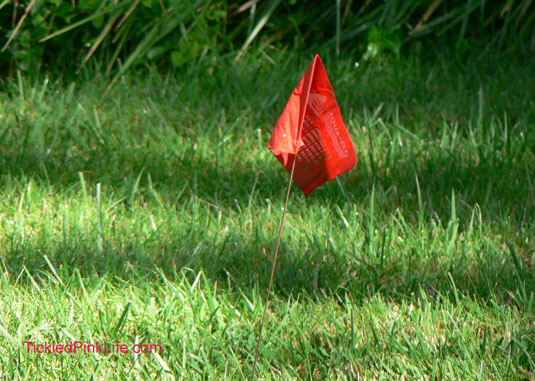 Anyway, back to the flags. On Saturday, the landscaper and his crew took a much needed weekend off, and I was standing in the kitchen making coffee, when I happened to see one of my little humming bird friends flying toward a red flag planted in the middle of the lawn. When he got to the flag, he hovered on one side and then the other before finally realizing the bright red spot in the green grass was not a flower at all. What the little bird thought was something he wanted, turned out to be something else entirely different. Boy, isn't life like that?
We are continually bombarded with advertisements trying to sell us stuff we need. Television is deluged with commercials. There are even channels devoted to just selling stuff. Our e-mail inbox is frequently spammed, telemarketers call us, and we can't surf the web without those annoying pop-up ads. Society tells us that we are incomplete if we don't have the latest handbag, cell phone or the cool shoes that our favorite celebrity wears. Whatever it is, someone has got it for sale. And it's not just stuff. It is also people, relationships, beliefs, causes, passions, pursuits, and values. If only we had what the world tells us we need, we would be…happy? Complete? Satisfied? Loved? Valued? And at peace.
Now I am not knocking stuff, since God provides some of those things for our comfort and enjoyment.  What I'm talking about is the pursuit of things that we try to use to fill the God-shaped hole we have in our hearts. The world offers us a lot of stuff, but it doesn't bring real peace because it's not the real deal. Everything the world gives is counterfeit, and people routinely settle for man-made rather than God-made. Jesus told us that the peace he brings is different than that which the world offers.
Peace I leave with you; my peace I give you. I do not give to you as the world gives. Do not let your hearts be troubled and do not be afraid (John 14:27).
Now granted, many people doubt that the life Jesus offers is any different than any other belief, and is really just one of many choices. So how do we know that Jesus is real and that everything else is counterfeit? Because faith in Christ changes lives. People who were once mean and angry become kind and loving. Out-of-control lives spiraling downward are turned around 180 degrees. Men and women experiencing despair and living lives without purpose, find freedom and hope. Lives are altered when they encounter the one and only true God. Have you ever wondered why Jesus' disciples would voluntarily die as martyrs if they knew what they were claiming was not true? Think about it. If they knew the message to be false, if Jesus had not risen from the grave, if they knew he wasn't the awaited Messiah as he claimed to be, and if they knew he hadn't ascended into heaven with a promise to return one day, why would they continue to lie years later, even to the point of martyrdom? That doesn't make any sense. But, if they knew the message of salvation to be true, then it is completely understandable why they would give their lives in order to tell others how to find the same freedom!
Their stories are documented in the New Testament, but maybe you don't believe that such life-altering changes still occur today. Well, you would be wrong as God is just as busy delivering people from lives of sin in our modern-day world as he was in the disciples' time.  If you have doubts, I would encourage you to visit the web site Washed Red.  They have collected some amazing stories from real people (some famous, some not so famous) whose lives have been changed by the power of Christ. How do we know that Jesus is the real deal? Because he has an established track record of changed lives.
Additionally, Greg Laurie will be presenting the Gospel message at the Harvest Crusade, on Saturday September 10, 2011, at Dodger Stadium in Los Angeles, which you can attend for free, or watch online. Pastor Greg communicates God's Word simply and plainly so that everyone can easily understand it.
Got problems? Despair? Hopelessness? Looking to find answers in buying more stuff, leading a cause or subscribing to a celebrity's new religion? Don't settle for the counterfeit. Christ is the real deal. There is no substitute.
Jesus answered, "I am the way and the truth and the life. No one comes to the Father except through me" (John 14:6).
Linking up at SomeGirlsWebsite for Thought-Provoking Thursday.
On the journey toward Home,