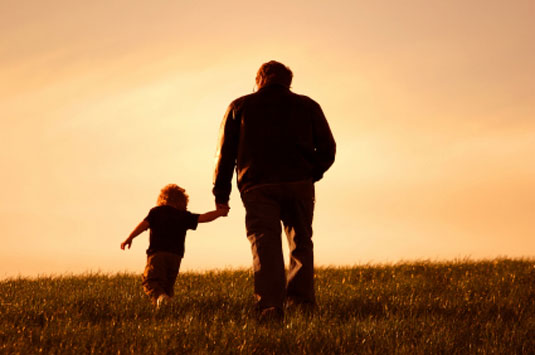 No, life isn't fair. Just as moms and dads have to break that bad news to their kids on a regular basis, I am having that conversation again today with my heavenly Father. And while I already know that life is not fair, I still cry out to God every time I am reminded of just how fallen the world we live in is. I had a difficult weekend and today it culminated in an activity I loathe. This afternoon I took a shovel out of the garage, found a soft area of dirt and prepared a grave for one of God's little creatures.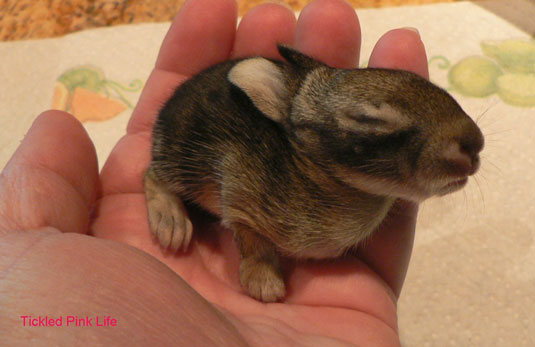 A few days ago, I found a baby rabbit on the back patio. He had bleeding puncture wounds on his head and his leg and was clearly nowhere near his nest. At first I thought he was already dead until I noticed that he was still breathing. I scoured the internet in search of instructions, and learned that his chances of survival were not good. Nevertheless, I went to the pet store and bought kitten milk replacement and an eye-dropper. Over the next two days, I was able to get some food into him, and he appeared to get stronger. This morning however, he became lethargic, stopped moving his limbs and started "guppie-breathing." I remember guppie-breathing; my mom breathed like that in the hours before her death. Watching my little rabbit friend brought back vivid memories—memories of waiting—waiting for death. I hate death. It is the insidious part of life that invades every corner of our security. No matter how much we tell ourselves that "death is a part of life," and accept the fact that everything and everyone on this planet will eventually die, it never makes it any easier to bear. While the adult in me pragmatically says, "move on," the child in me screams, "It's not fair!"
I think what makes death so difficult to accept is that inwardly we know life was not suppose to be this way. We were perfectly created beings, in a perfect world and in a perfect relationship with God—and we blew it. And for our little animal friends, we dragged them into our curse as well. Maybe it is guilt I am feeling today, knowing it was my ancestors who caused this little rabbit to be born into a fallen world only to become potential food for a predator. When I think about the fall, it makes me want to go back in time, find Eve and smack her. But I know that if it hadn't been her, it might have been one of her kids, or grandkids, or even heaven-forbid, me. Gratefully, God still loved us enough to fix this horrible mess we got ourselves into.
No, life here is not fair, but one day soon, it will be. Christ is returning to this earth to establish his kingdom and when he does, justice will reign. For those who are his, Jesus will restore every good thing that was lost in the fall. The curse will be gone, death will be no more and man will once again walk with God. The lion will lie down next to the lamb, and little bunnies will no longer be food for larger animals. Jesus will make all that is wrong with the world now, right again and finally, life will be fair.
A shoot will come up from the stump of Jesse; from his roots a Branch will bear fruit. The Spirit of the LORD will rest on him— the Spirit of wisdom and of understanding, the Spirit of counsel and of might, the Spirit of the knowledge and fear of the LORD— and he will delight in the fear of the LORD.
He will not judge by what he sees with his eyes, or decide by what he hears with his ears; but with righteousness he will judge the needy, with justice he will give decisions for the poor of the earth. He will strike the earth with the rod of his mouth; with the breath of his lips he will slay the wicked. Righteousness will be his belt and faithfulness the sash around his waist.
The wolf will live with the lamb, the leopard will lie down with the goat, the calf and the lion and the yearling together; and a little child will lead them. The cow will feed with the bear, their young will lie down together, and the lion will eat straw like the ox. The infant will play near the cobra's den, the young child will put its hand into the viper's nest. They will neither harm nor destroy on all my holy mountain, for the earth will be filled with the knowledge of the LORD as the waters cover the sea.
In that day the Root of Jesse will stand as a banner for the peoples; the nations will rally to him, and his resting place will be glorious.  Isaiah 11:1-10 (NIV)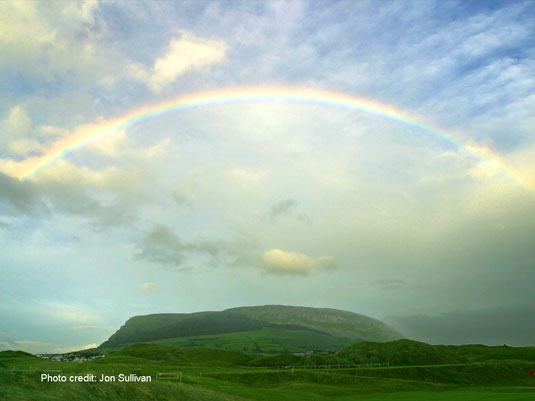 "Look, I am coming soon! My reward is with me, and I will give to each person according to what they have done. I am the Alpha and the Omega, the First and the Last, the Beginning and the End. "Blessed are those who wash their robes, that they may have the right to the tree of life and may go through the gates into the city."  Revelation 22:12-14 (NIV)
On the journey toward Home,