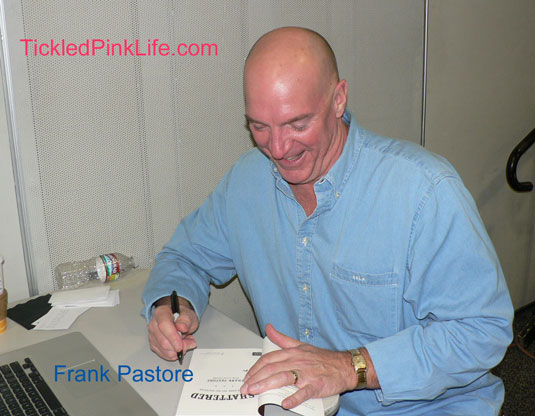 Earlier this month, my sister and I attended a prophecy conference. Yes. A prophecy conference. Now I know that word gives some of you the heebie-jeebies, but I can assure you that everyone there was quite sane; no wide-eyed people whispering conspiracies and running around in tin foil hats. On the contrary, the attendees were normal people who love the Lord and have a passion for Bible study. Speakers included some of the best Bible Scholars on the subject: Tim LaHaye, David Hocking and Chuck Missler. The conference was co-hosted by the local Christian radio station, KKLA, and was moderated by Frank Pastore, a former pitcher for the Cincinnati Reds who now hosts a nationally-syndicated radio program.
I had the pleasure of meeting Frank Pastore (pictured above) who signed copies of his new book Shattered: Struck Down, but not Destroyed. After an injury ended his baseball career, the life-long atheist found himself confronting a God he didn't believe it. His story is one of life-changing loss leading to life-changing redemption, when the injury opens the door for him to receive Jesus Christ as his personal savior. It was such a treat to meet him after listening to his radio show.
Ron Carlson from Christian Ministries International gave a riveting message about the differences between world religions and Christianity. What struck me the most was his point about the assurance of salvation that we as Christians enjoy, versus the burden of uncertainty that most world religions promote. For many people, salvation or the opportunity for heaven is based upon the works they do during their lifetimes. When they die, they are hoping that the volume of their good deeds will outweigh the volume of their bad deeds. During life however, they have no idea where they are on this scale. Their religion teaches that they can never really know for sure if they will go to heaven or not. They fear being measured on the scales of their god, knowing there is a good chance that they will be found wanting and will be rejected. How terrifying it must be for our friends and neighbors to live that way, with no assurance of their future. As followers of Christ we have a freedom and a peace that many others around us don't have.
If we confess our sins, he is faithful and just and will forgive us our sins and purify us from all unrighteousness. I John 1:9
Our salvation is not based upon what we do for God, but on that which he has already done for us on the cross. Additionally, we have the assurance that once he cleanses us, we are cleansed for good. We don't have to worry that God will change his mind and "throw us back."
I write these things to you who believe in the name of the Son of God so that you may know that you have eternal life. I John 5:13 (emphasis mine)
Being reminded of the reason that we as Christians do not fear death, should spur us on to share our assurance with those who do fear it.
Pastor Jack Hibbs of Calvary Chapel Chino Hills, and host of the Real Radio Program encouraged us with the words of Jesus in the book of Matthew. Jesus told us to be aware of the signs of the times, and to recognize when the time of his return was at hand.
"Now learn this lesson from the fig tree: As soon as its twigs get tender and its leaves come out, you know that summer is near. Even so, when you see all these things, you know that it is near, right at the door." Matthew 24:32-33
We are admonished to recognize the events described in the Bible that are to take place before Christ returns. When we consider current world events, they should remind us that time is short and we need to be ready. As Jesus instructed, we need to take the great commission seriously and reach others for Christ, while we still have time to do so.
He said to them, "Go into all the world and preach the good news to all creation. Mark 16:15
Pastor Hibbs describes the urgency. "I believe that Jesus is coming back soon and that we need to get His message out to a hurting and needy world."
Author and radio Bible teacher David Hocking spoke about the deception of Replacement Theology. It is an unfortunate reality that many Christians do not understand their Bible, and have accepted a false doctrine that the Church has replaced Israel. Careful study of the Bible reveals that God deals with the Church and Israel mutually exclusively. God has not abandoned Israel, and his promises concerning her are still in place. Pastor Hocking also described how this misunderstanding renders the casual Bible reader incapable of understanding key verses pertaining to the Church and to Israel. If you don't know who God is talking to then you won't know what he is talking about. Pastor Hocking teaches on the radio broadcast Hope for Today.
Lastly, my sister and I had the very special treat of meeting Chuck Missler. Recently, we were granted permission to include a passage from one of his Bible studies, in our book Held by God, so we were very anxious to thank him in person. When we were in college, Chuck Missler was teaching Bible study at Calvary Chapel Costa Mesa, and it was there that we learned how to really study the Bible, how to research the original text in Greek and Hebrew, and how to dig for the wonderful nuggets of truth that are often hidden behind the text. In fact, his radio broadcast still opens with the intriguing statement "66 books by 40 authors and yet, we now discover it's an integrated message system from outside our time domain." Over the years we have learned for ourselves just how integrated the Bible is and just how precisely each part is interwoven together. When one understands that no parts of it are included by accident, it prompts the reader to find out why God included each part. For example, many of us have read through the genealogy of Adam to Noah which is described in Genesis chapter five. Aside from the obvious benefit of understanding how they were all related, is there something more? As it turns out, there is! A study of the original root of the each Hebrew name discloses a message, when the meanings are arranged in the order that they appear. The meanings of the ten names from Adam to Noah look like this: [Man] [Appointed] [Mortal] [Sorrow] [The Blessed God] [Shall come down] [Teaching] [His death shall bring] [The despairing] [Rest, or comfort]. To make it easier to read in English, Dr. Missler shares it this way: "Man (is) appointed mortal sorrow, (but) the Blessed God shall come down teaching (that) His death shall bring (the) despairing rest." (1)
God's plan for the redemption of mankind is hidden within a genealogy in Genesis. How cool is that? Is it a coincidence? Not likely. As Chuck Missler likes to say, "there are no accidents in God's Kingdom."
It is God's privilege to conceal things and the king's privilege to discover them. Proverbs 25:2 NLT
When you approach Bible study with this verse in mind, the journey can be fascinating! Chuck Missler and his wife Nancy, head up Koinonia House which has a tremendous source of study material.
The conference was a wonderful time of fellowship with other believers, and a word of encouragement to keep our eyes fixed on the finish line… especially as we see that fig tree start to bud.
I have fought the good fight, I have finished the race, I have kept the faith. 2 Timothy 4:7
(1)       Chuck Missler, Cosmic Codes: Hidden Messages from the Edge of Eternity, Koinonia House, Coeur d'Alene, Idaho, 1999, revised 2004, p. 75