Fall is one of my favorite times of year—not only because of the cooler weather, but also because I love watching the trees change color. Now I know that California is nowhere near a fall-color destination, but we do have a smattering of deciduous trees in my neighborhood and I wholeheartedly enjoy seeing them go from green to yellow to orange to red each year. The Modesto Ash in my front yard sprouts berries in the fall, attracting a lot of little bird friends. Lately the wind has been blowing the fallen berries toward the house and onto the porch, where the birds have been routinely setting off the Ring doorbell motion detector. It's been fun getting all these alerts at work, only to see my little bird friends hopping around after the berries!
Inspired by brilliant colors of autumn, I love decorating with fall fruits. Pomegranates displayed in a ceramic baking dish provide rich color to the kitchen. The dishtowels are from the Disney Store, while the vintage bullion cup and saucer are Copelands China.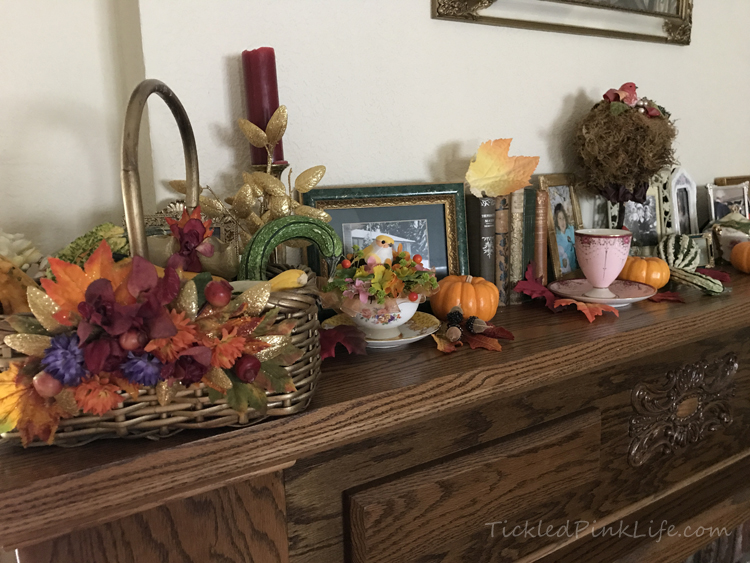 The oak mantel is decorated with colorful gourds, mini pumpkins, and a burnished gold basket adorned with sparkly fall leaves.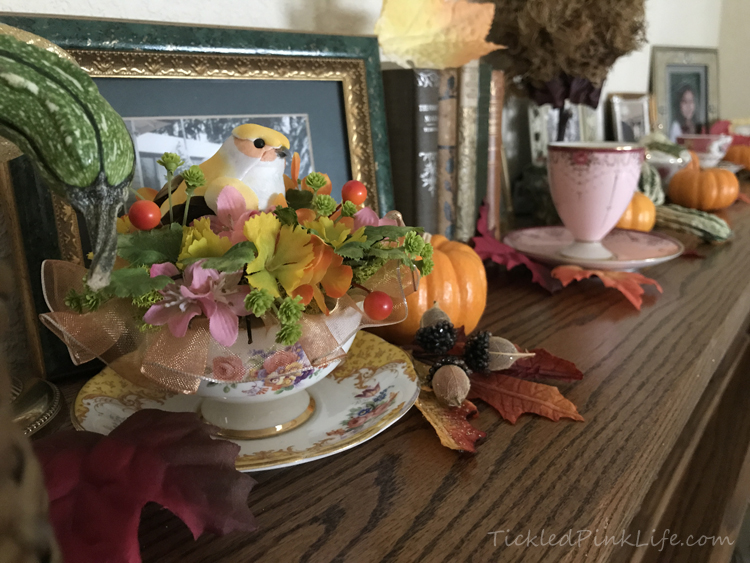 This teacup bird in autumn colors is available for sale in my Etsy shop!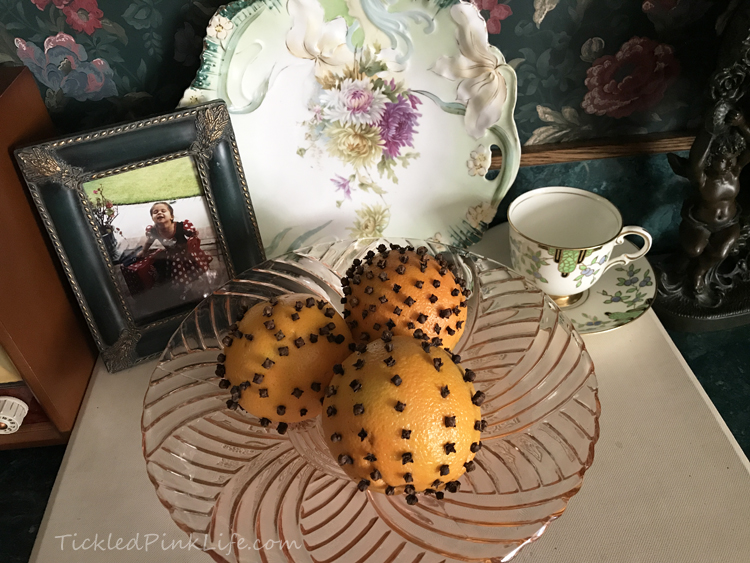 In the library, clove-studded oranges are displayed in a vintage Depression glass bowl. The cake plate is RS Prussia, and the art deco vintage cup and saucer are Plant Tuscan.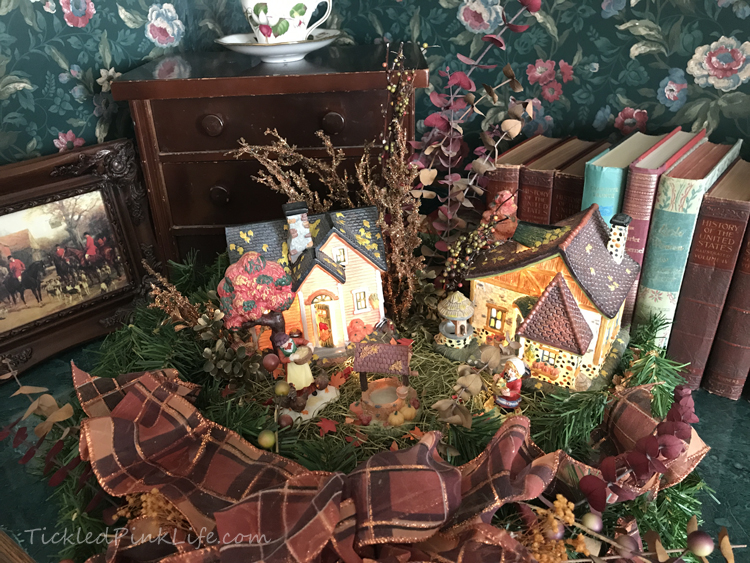 Another autumn decoration in the library includes this village vignette made from a Christmas wreath. Years ago, my church had an annual event called Preparing your Heart and Home for the Holidays, where great craft ideas and recipes were presented. I was a volunteer who helped make some of the demonstration crafts. This wreath features lighted village pieces, sparkly trees, faux grass, and tiny fall leaves.
A few of the great recipes from the Heart and Home event are shared in other posts. These include the pecan melts, and the chicken cranberry spread.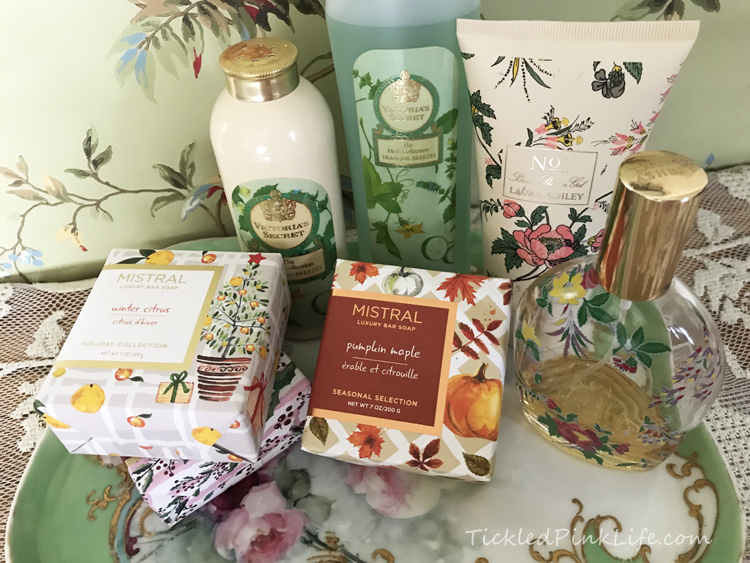 Sweet smelling fall-inspired soaps are a great way to bring the autumn indoors! These, made by Mistral, are displayed on a hand-painted vintage Limoges dresser tray.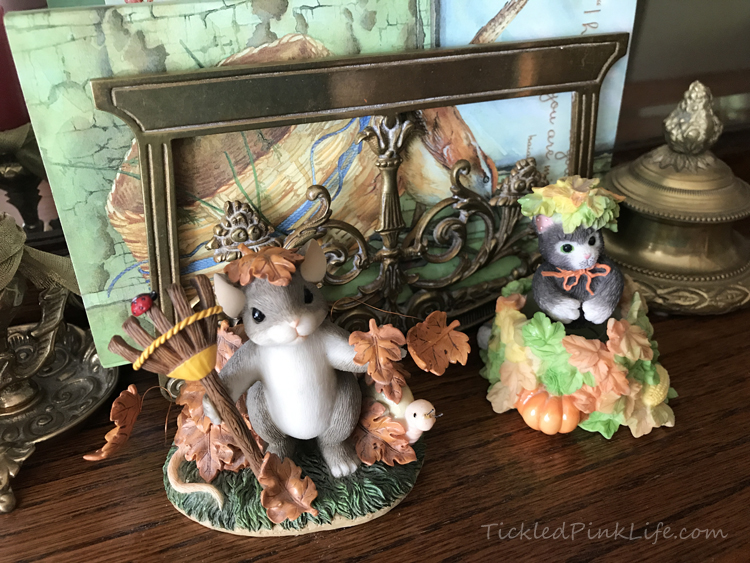 My oak desk features fun autumn-inspired resin figurines.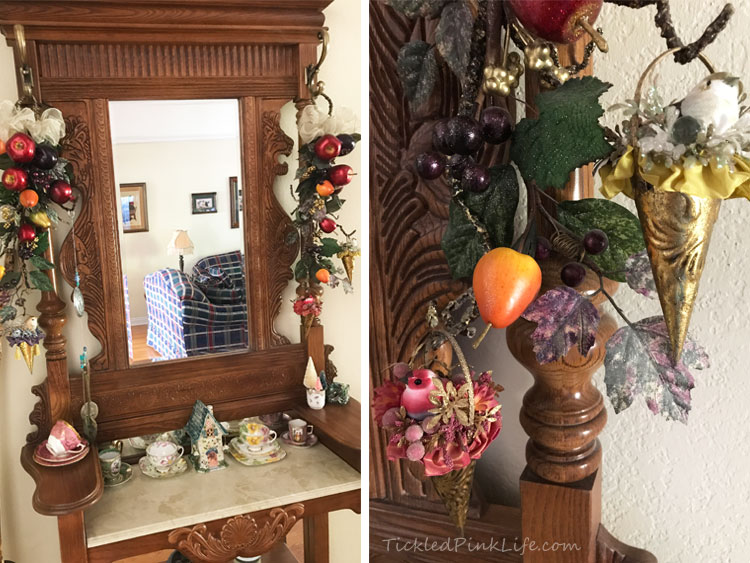 The hall tree is adorned with sparkly garlands of fruit, vines, and leaves. The wired vines provide branches to hang colorful bird ornaments—another craft I learned to make at the Heart and Home event. The vintage teacups displayed on the hall tree are made by Coalport, Paragon, Dresden, and Imperial Crown China Austria.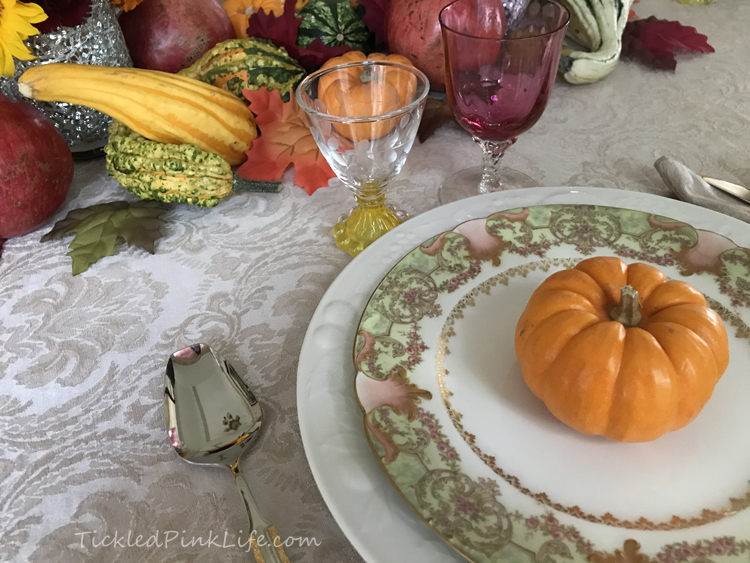 In the dining room, an autumn-inspired tablescape features a lovely palette of fall colors. Art deco designs can be found in both the GDA Limoges salad plates and the Hoogosil Solingen cutlery. Cranberry wine glasses made by George Borgfeldt, are paired with yellow hobnail Anchor Hocking cordials.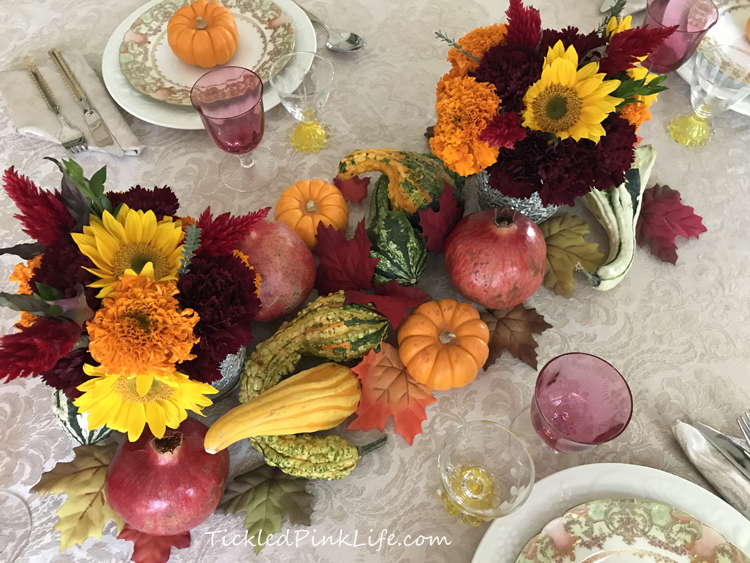 The table centerpiece consists of assorted gourds, mini pumpkins, pomegranates, and silk fall leaves, scattered between two fresh flower arrangements of yellow sunflowers, orange marigolds, burgundy carnations, and red celosia.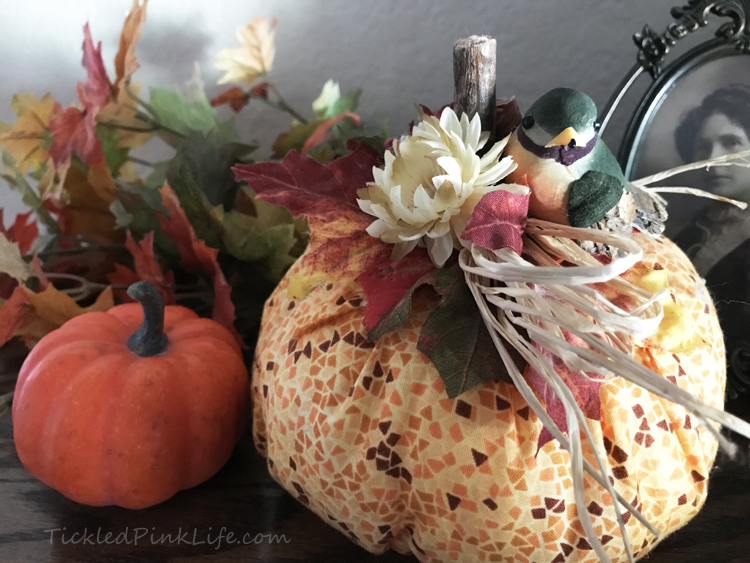 Fabric pumpkins are a fun craft to make and can be easily customized. This one features a mushroom bird and a raffia bow.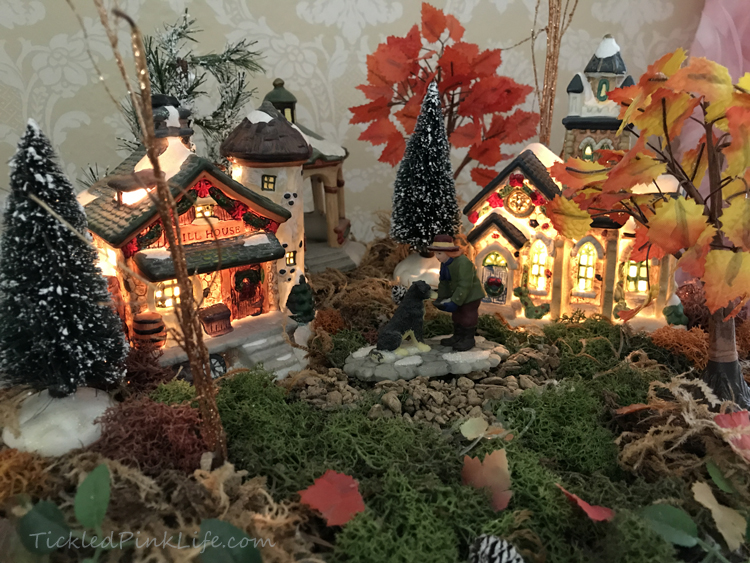 Here is another autumn village vignette—this one in a moss wreath. These are started by gluing a cardboard round to the bottom of the wreath and then gluing a Styrofoam round to fill in the center, which should be roughly even with the top of the wreath. When gluing both, a small area should be left unsecured toward what will be the back, to run electrical cords through. Moss or faux grass is glued down and then the lighted village pieces are added. The cords are pulled through the open area of Styrofoam and out a hole between the bottom of the wreath and the cardboard round. Additional moss can be glued over any cord areas still showing from the top. Then the rest is purely creative. Use other materials to resemble ground, like grass, rocks, cobblestones, bricks, dirt, or snow. Real sticks and branches can serve as deciduous trees, while other miniatures can be purchased at a craft store. These wreaths can be adapted to other seasons as well, and since they are portable decorations, you can place them in any room near an outlet.
I hope my little collection of fall décor gives you some great ideas for bringing the autumn indoors!
On the journey toward Home,