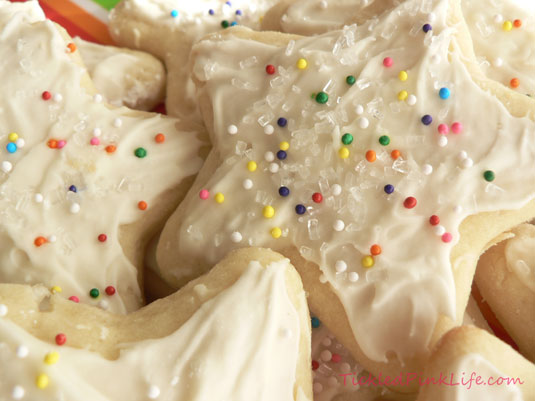 These tasty little treats are the perfect blend of sweetness and tartness. My sister-in-law made these cookies for Christmas one year and they were so awesome that I now bake a batch nearly every year. They also make great Easter cookies!
Cookie recipe:
1/3 cup butter
1/3 cup shortning
2 cups flour
1 egg
¾ cup sugar
1 tablespoon milk
1 teaspoon baking powder
1 teaspoon vanilla extract
Dash salt
With an electric mixer, beat butter and shortning. Add about one-half of the flour, and then the egg, sugar, milk, baking powder, vanilla, and salt. Beat until thoroughly combined, and then beat in remaining flour. If the mixture becomes difficult to beat, add a little more milk. Cover the dough in plastic wrap and chill for 3 hours.
On a floured surface, roll out the dough to one-half inch thick. Cut into desired shapes and place on an ungreased cookie sheet.
Bake at 375 degrees Fahrenheit for 7-8 minutes, or until bottoms are lightly browned. Cool and frost.
Cream cheese frosting recipe:
3 ounces cream cheese
¼ cup softened butter
1 teaspoon vanilla extract
2 ¼ cups sifted powdered sugar
Beat together cream cheese, butter, and vanilla, until light and fluffy.Gradually add in powdered sugar, beating well between additions, until frosting is of spreading consistency.
I added white sugar crystals and a few sprinkles to my Christmas stars. I hope you'll enjoy using this recipe for years to come!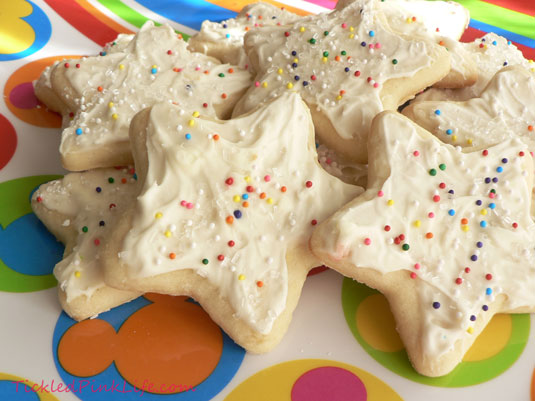 On the journey toward Home,