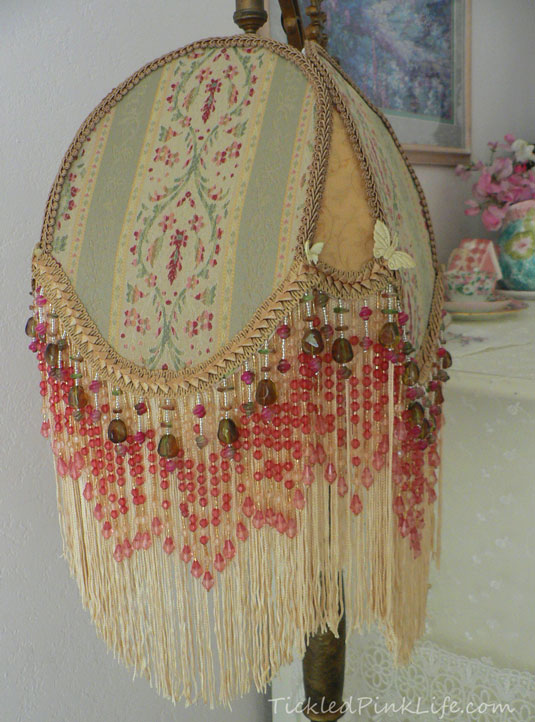 You know that room in your house where you put all the stuff you need to do something with, but just don't have the time to do something with it now? The one that stores boxes that need to be gone through, files that need to be sorted, records that need to be shredded, items that need to be mended, and craft projects that need to be completed? Well, my poor guest room was that space, and over the years it became the repository for work stuff, family stuff, and craft stuff so that THAT stuff wouldn't clutter the rest of the house. Eventually, there was so much stuff stored in there that only a little path from the door to the closet remained, just in case a repairman needed access to the attic! The running joke in my family was that I probably left it that way to discourage them from spending the night, which wasn't entirely true… okay, so maybe it was just a little bit true!
Be that as it may, I did think about getting my guest room back to some form of functionality. Often I'd open the door and tell myself, "I really need to do something about this room." But then I'd get completely overwhelmed with wondering where to start and I'd turn around and close the door.
Well a few months ago, events beyond my control caused me to revisit the situation in a serious way. I had a pipe leak in the attic above the master bathroom sink. It unfortunately caused some water damage to the master bedroom which, much to my dismay required far more mitigation than I ever could have imagined. A week of fans and dehumidifiers necessitated that I vacate the master bedroom and take up temporary residence in my cluttered guest room. After a few days, I was a most uncomfortable guest in my guest room! Moving boxes off the bed so I could sleep in it was just not enough. I felt like I was living in a cave! Well, as the weeks went by (yes, repair took that long), I began to tackle the monumental chore of sorting, filing, tossing, and making a huge pile for the Goodwill. And to my delight, the guest room once again became fully functional. Now that it was, I wanted to spruce it up a bit. I knew that with just a few decorative touches my guests would declare, as Miss Elizabeth Bennet so eloquently stated, "It is a very pleasant room!"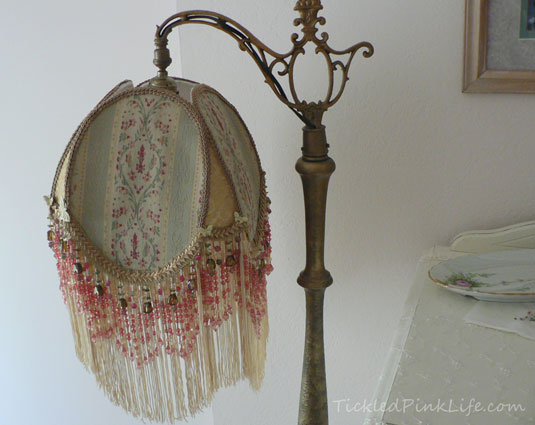 One of the new focal points is a beautiful Victorian-style beaded lamp shade that I made for my vintage floor lamp. The main panels of the shade are covered in a French-style tapestry. The inset panels are completed in a gold scroll fabric, and taupe-colored gimp joins the panels together.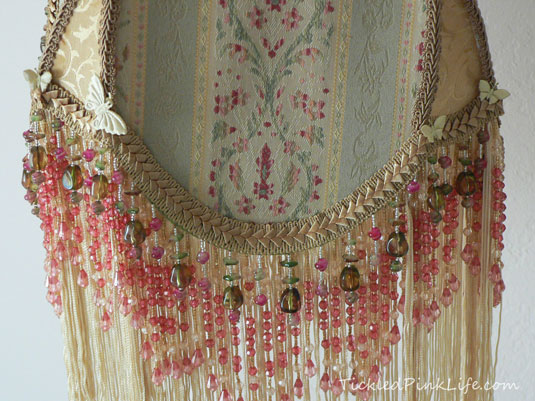 Cream-colored long fringe is overlaid with two strands of beaded fringe, and green silk butterflies finish the design.
To complement the beaded lampshade, I repainted and then reupholstered a vintage 1940's harp back chair in the same French tapestry fabric. Sometimes this style of chair is also referred to as "lyre back."
I found the shabby-chic painted furniture at an antique store and knew that these pieces would be perfect for this room.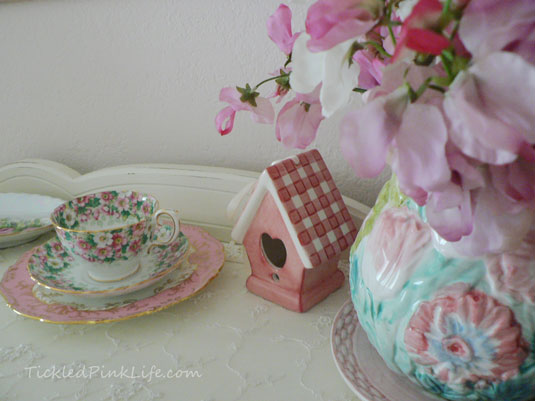 The dresser is adorned with a delicate lace runner, porcelain bird house ornament and a vintage relish dish. The cup and saucer are Crown Staffordshire Blossom Festival, and the plate is a Coalport Sandringham pattern.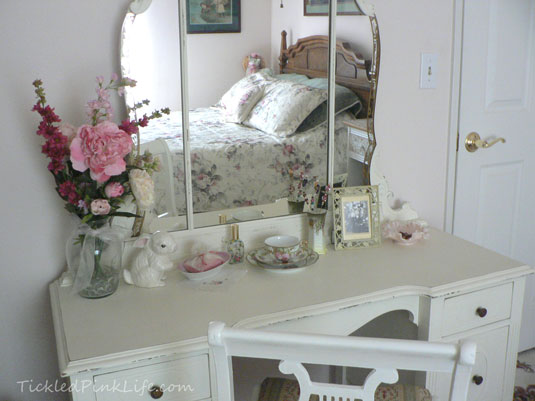 The matching vanity is just the right size for this room, and goes very nicely with my new chair!
On the vanity is one of my favorite Limoges trios.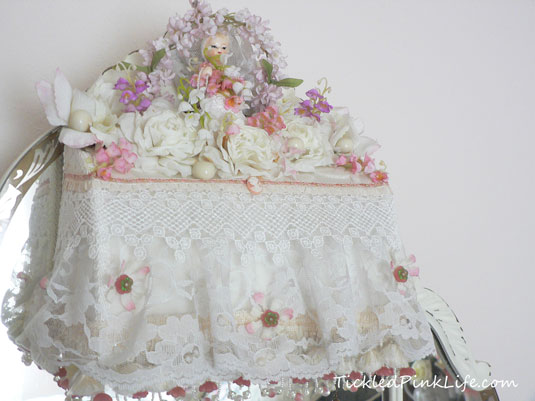 The vanity mirror holds a beautiful hand-crafted bed lamp, made by a dear friend as a gift.
The guardian angel print also came from an antique store, many years ago. I don't know who the artist is, but I've always loved the style and vibrant colors of this print.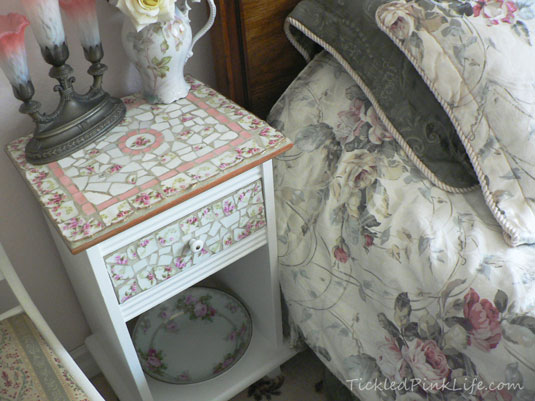 The night stand has a vintage china mosaic top and drawer front, and the shelf below holds a pink and green CS Prussia bowl. It pairs well with the pink rose and green floral comforter set. Opposite sits a colorful fabric cat.
Over the bed, the southern mansion print is "One Fine Day" by R. C. Carter. The colors are perfect for this room, and the image just makes me want to be in that picture!
While the water damage fiasco was a huge headache, I'm glad that circumstances forced me to reinstate the guest room. I love the new look and am happy to share my progress with you!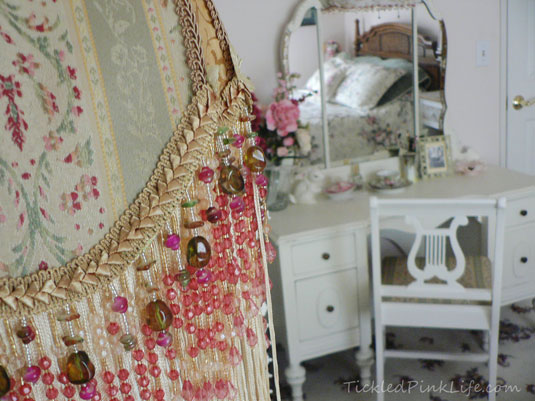 Now, if only I could get my craft supplies out of the living room… sigh…!
I'm linking up with How Sweet the Sound for Pink Saturday!
On the journey toward Home,