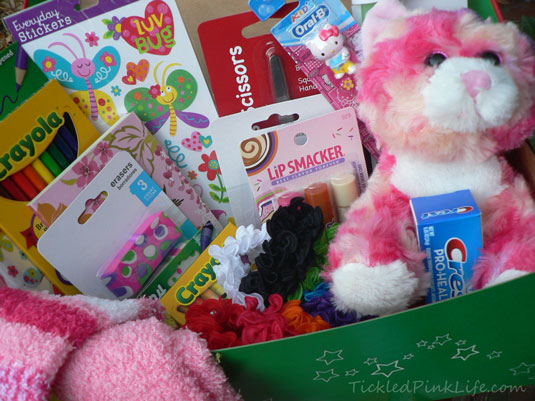 Each year, Samaritan's Purse orchestrates the collection and delivery of gifts to children around the world. Packed in shoeboxes, these simple presents bring hope and the message of the Gospel to literally millions of kids. And the really cool part—it is so easy to get involved in this ministry!
Check out the video from Samaritan's Purse.
So how can you be a part? First, get a shoebox or a closable plastic tote of about the same size. You can wrap your box in colorful paper if you'd like. The totes are nice because the children can use them later. One year I choose the tote option and then covered the outside with colorful stickers.
Go to the Samaritan's Purse web site to download a label. To cover delivery costs, enclose a check for $7. If you'd like to track your box, you can pay the $7 online and download a label with a bar code. When your box is delivered, they'll send you an e-mail to tell you the country of the child who received your box.
Decide if your gift will be for a boy or girl, and choose an age range.
Fill the box with toys, school supplies, and hygiene products. You can also enclose a letter and picture of your family, if you'd like to share something about yourself with the child who receives your box. There are a few rules about items you shouldn't enclose, so be sure to visit the web site for more information.
Lastly, place a rubber band around your box and attach your label, making sure that you don't tape over the bar code if you've used that type of label. If you have a regular label, be sure to enclose your check. And most importantly, pray over your packed box, for the child who will receive it.
Take your box to a collection location near you. You can find them on the Samaritan's Purse web site.
If you can't pack a physical box, but would still like to be involved, the web site will allow you to build a virtual box online which they will physically pack for you! It couldn't be simpler!
Operation Christmas Child provides a rewarding way to be involved in telling children around the world about the love of Jesus. Collection week is November 17-24, so get started today!
On the journey toward Home,