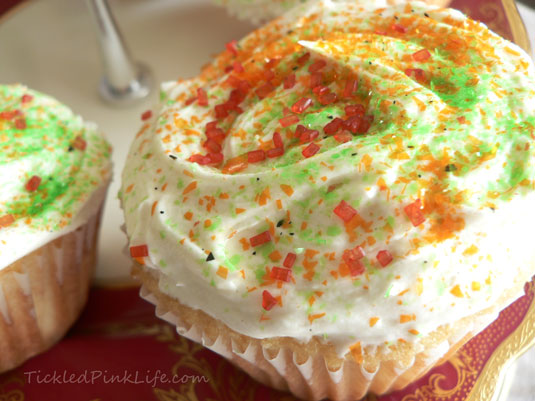 Since my cooking and baking skills are somewhat lacking, I like to find instructions on the internet that are simple for me to follow. I don't know enough about baking to understand how to alter ingredients to change texture or density, so I was happy to find a great recipe from TastyKitchen.com for moist vanilla cupcakes! The instructions were straight forward, and more importantly the cupcakes were actually light and fluffy! Here are the details:
3 cups flour
2 ½ teaspoons baking powder
1 teaspoon salt
1 cup butter, softened
2 cups sugar
4 eggs, room temperature
1 cup milk
1 teaspoon vanilla extract
1) Preheat oven to 350 degrees F.
2) Beat together butter and sugar.
3) Add eggs, beating well after each addition.
4) Add flour, baking powder, salt, and beat well.
5) Add milk and vanilla extract and beat until creamy.
5) Fill cupcake liners about 2/3 full.
6) Bake for 12-15 minutes, or until a toothpick comes out clean.
This recipe yields about 36 cupcakes.
For frosting, I used a buttercream recipe from TheKitchenMagpie.com. It is light and airy with just the right amount of sweetness.
1 cup salted butter
3 teaspoons vanilla extract
4 cups powdered sugar
4 tablespoons heavy cream
1) Beat together butter, vanilla extract and heavy cream.
2) Add sugar and beat until creamy.
This recipe will yield enough frosting for about 36 cupcakes.
To frost, you can use a pastry bag, or just a plastic bag with the corner cut off. I started on the edge and then piped in a spiral circle inward.For these cupcakes, I wanted a simple decoration that resembled the blending colors of autumn leaves. I used green, orange, and red sugar sprinkles to give the cupcakes just a bit of color.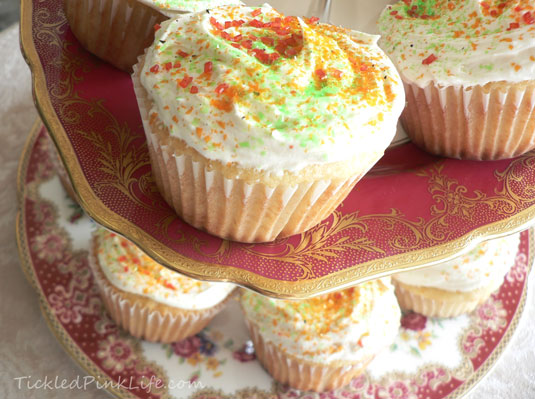 Delicious and simple to make, these vanilla cupcakes with buttercream frosting are a delightful treat for fall.
On the journey toward Home,