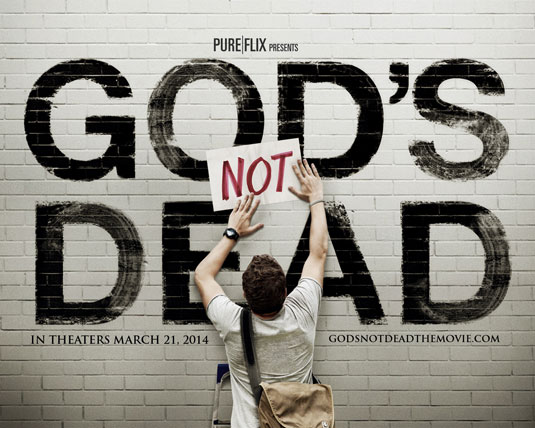 GOD'S NOT DEAD is a new Christian film that opens this weekend, and judging from the trailer, it looks like it may be a very good one. The story centers on a college freshman who is challenged by his professor to deny his faith or to defend it. The film features Kevin Sorbo and Shane Harper in the title roles, and also includes appearances by Duck Dynasty's Willie and Korie Robertson.
The GOD'S NOT DEAD web site describes the film this way:
GOD'S NOT DEAD weaves together multiple stories of faith, doubt and disbelief, culminating in a dramatic call to action. The film will educate, entertain, and inspire moviegoers to explore what they really believe about God, igniting important conversations and life-changing decisions.
(If the video embed is not visible, here is the direct YouTube link)
God is not dead; he's very much alive, and he's the only hope for mankind. The Bible admonishes us to know what we believe and why, and to be ready to respond to others when questioned about our faith. This film especially speaks to young people who may be intimidated by the hostility to Christianity commonly found today on most college campuses. GOD'S NOT DEAD should be an encouragement to all of us, and a reminder that we are called to be salt and light.
But even if you should suffer for what is right, you are blessed. "Do not fear their threats; do not be frightened." But in your hearts revere Christ as Lord. Always be prepared to give an answer to everyone who asks you to give the reason for the hope that you have. But do this with gentleness and respect, keeping a clear conscience, so that those who speak maliciously against your good behavior in Christ may be ashamed of their slander. 1Peter 3:14-16, NIV
On the journey toward Home,