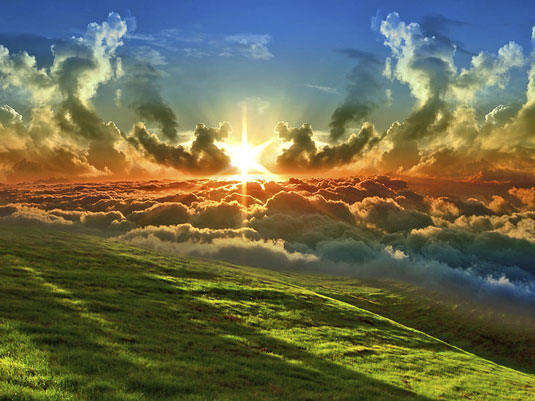 While driving to work yesterday, I was listening to a song by the Christian band Third Day. The song, Your Love is Like a River portrays the love of God in visual imagery, and includes among other descriptors lyrics alluding to the verse about how deep, how high, and how wide is God's love for us.
That Christ may dwell in your hearts by faith; that ye, being rooted and grounded in love, May be able to comprehend with all saints what is the breadth, and length, and depth, and height; And to know the love of Christ, which passeth knowledge, that ye might be filled with all the fulness of God.  Ephesians 3:17-19, KJV
I am a "picture" sort of person, meaning that I process ideas and concepts by visualizing what they look like or "graphically" if you will. I used to picture this verse as meaning that God's love is just really, really big. While driving, it dawned on me that this verse describes not only a large size, but also the physical properties of volume. It is not just a really big gift we are presented with and then receive, but a spatial three-dimensional volume that we are immersed in. It is sort of the difference between looking at one side of a box which is so immense that one cannot see to the edge, and being in the center of that box where it is impossible to reach the side.
When I got home, I did a little research on the descriptors in this verse, looking for their meanings in the original Greek.
Breadth is platos meaning "breadth or great extent." Platos derives from the root platys, which means "broad."
Length is mekos and means "length, for-shadowing of greatness, or extent." Mekos is derived from the root megas, which means "great, numerous, large, abundant, or rank."
Depth is bathos meaning "depth height, extreme, deep, deep things of God (things hidden and above man's scrutiny), deepness, inexhaustible abundance, or immense amount." Bathos derives from the root bathys, meaning "a deep sleep."
Height is hypsos which means "height, a property of measurement, of place, heaven, and used as a metaphor for rank, or high station." Hypsos comes from the root hyper, which means "in behalf of, for the sake of, over, beyond, more than, over and beyond a place, position, situation, or extension."
The Greek in this case, seems to provide a fairly straight-forward illustration of God's love by describing it as a visual picture of volume measurements. Two commentaries on the book of Ephesians share perspective on this verse.
"If you could only see the length to which God was willing to go to save you, the depths to which Jesus was willing to come in order to redeem you, the heights to which God intends to bring you."  Chuck Smith
"Some describe the particulars thus: By the breadth of it we may understand the extent of it to all ages, nations, and ranks of men; by the length of it, its continuance from everlasting to everlasting; by the depth of it, its stooping to the lowest condition, with a design to relieve and save those who have sunk into the depths of sin and misery; by its height, its entitling and raising us up to the heavenly happiness and glory."  Matthew Henry
Sometimes one can get further insight by looking at other verses using the same word or words being studied. While there are several instances of the words breadth, length, depth, and height in other places, I found two verses which had interesting usage. The descriptors height and depth are also used in this oft-quoted verse in Romans, chapter 8.
For I am persuaded, that neither death, nor life, nor angels, nor principalities, nor powers, nor things present, nor things to come, Nor height, nor depth, nor any other creature, shall be able to separate us from the love of God, which is in Christ Jesus our Lord.  Romans 8:38-39, KJV
In contrast to Ephesians, Romans uses the same words not to depict the vastness of God's love, but to describe physical barriers that cannot be employed to separate us from the love of God. In Ephesians, the words seem to describe a volume of inclusion, while the Romans verse seems to indicate a volume of exclusion.
It is also interesting to note that while the Greek word for depth is the same one used in Ephesians, the word for height is not. In the Romans verse, height is the Greek word hypsoma, which can mean "height" but can also mean "a thing elevated, elevated structure, barrier, rampart, or bulwark." Hypsoma comes from the root word hypsoo, meaning "to lift up high, to exalt, to raise to the very summit of opulence and prosperity, to raise to dignity, honor and happiness, or to exalt one's self." Additionally hypsoma can mean "a high thing lifted up in antagonistic exaltation," as the word is used in the second book of Corinthians as high thing.
For though we walk in the flesh, we do not war after the flesh: (For the weapons of our warfare are not carnal, but mighty through God to the pulling down of strong holds;) Casting down imaginations, and every high thing that exalteth itself against the knowledge of God, and bringing into captivity every thought to the obedience of Christ.  2 Corinthians 10:3-5, KJV
The use of this word in Corinthians is referring to the Christian's constant battle against anything that competes for our attention, distracting us from our relationship with Christ. That puts the verse in Romans into new perspective. Children of God cannot be separated from his love, even when we constantly put our idols between him and ourselves. That doesn't mean we shouldn't strive to remove them, but it does show that God loves us in spite of ourselves.
The second verse I found interesting was in the book of Revelation, describing the New Jerusalem.
And the city lieth foursquare, and the length is as large as the breadth: and he measured the city with the reed, twelve thousand furlongs. The length and the breadth and the height of it are equal.  Revelation 21:16, KJV
In this case, all three descriptors, length, breadth, and height, are the same Greek words used in Ephesians. They illustrate the massive dimensions of the city, just as Ephesians illustrates the massive dimensions of God's love. One furlong is about one-eighth of a Roman mile, so twelve thousand furlongs is roughly 1500 miles square. It will be a big place!
Ephesians describes the volume of God's love for us, Romans describes the barriers which cannot keep God's love from us, and Revelation describes the vastness of the New Jerusalem where we will live with him forever!
And I John saw the holy city, new Jerusalem, coming down from God out of heaven, prepared as a bride adorned for her husband. And I heard a great voice out of heaven saying, Behold, the tabernacle of God is with men, and he will dwell with them, and they shall be his people, and God himself shall be with them, and be their God.  Revelation 21:2-3, KJV
(Footnote: Greek word search done online using Blueletterbible.org, referencing Strong's Concordance and Thayer's Greek Lexicon)
On the journey toward Home,