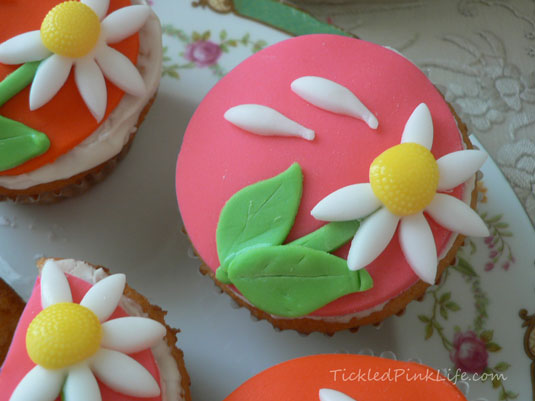 Here we are in the midst of July and it is hot, hot, hot in Southern California. It seems like we've been in the 100 degree range since the end of June! The warmer weather however, has been the inspiration for these sweet colorful treats! After seeing this idea on Pinterest, I wanted to recreate these cupcakes in the bright summer colors of hot pink, yellow, lime and orange.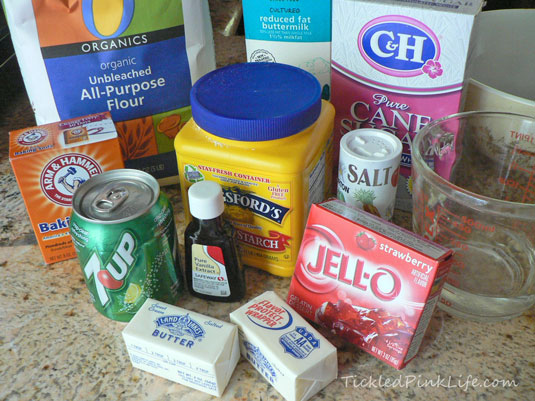 Ingredients for the cupcakes:
½ cup butter at room temperature
1 cup sugar
1 ½ cups cake flour
½ packet strawberry gelatin
1 egg
½ cup buttermilk
½ cup 7-up (or Sprite)
½ teaspoon salt
1 teaspoon baking soda
1 teaspoon vanilla extract
½ cup hot water
If you don't have cake flour handy, you can use all-purpose flour and convert it to cake flour as follows: Measure out 1 ½ cups of all-purpose flour into a bowl. Remove 3 tablespoons of flour from the bowl and return them to your package of flour. Then add 3 tablespoons of corn starch to the bowl and sift until the corn starch is evenly mixed.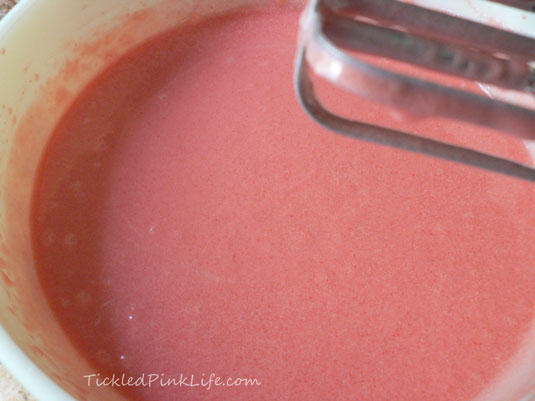 Cream the butter and sugar together in a large mixing bowl. Add remaining ingredients, combining them with an electric mixer after each addition until the batter is smooth.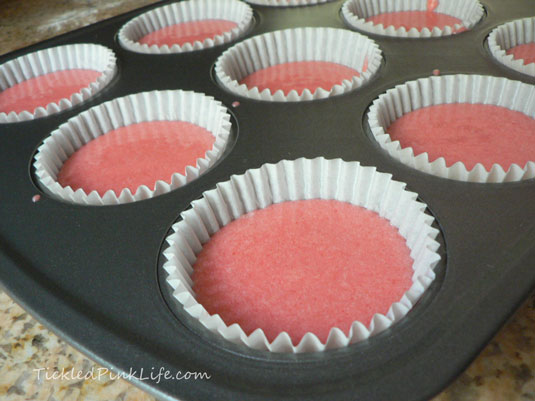 Pour the batter into lined cupcake trays. Bake at 350 degrees for 20-25 minutes. Allow cupcakes to cool before frosting.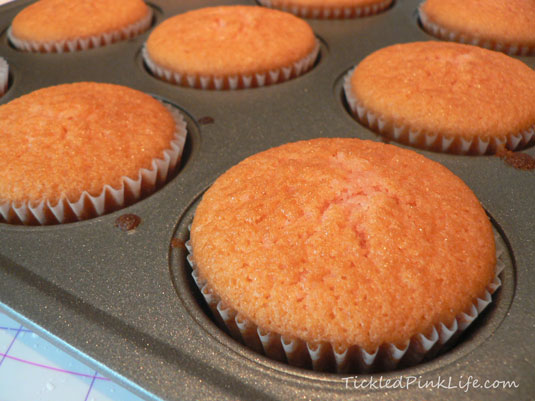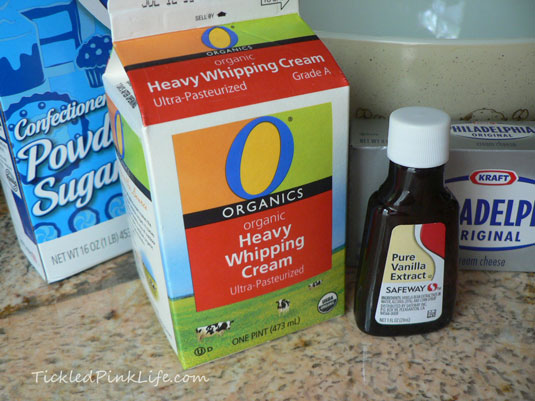 Ingredients for the cream cheese frosting:
8 ounces of cream cheese at room temperature
2 ½ cups powdered sugar
2 teaspoons heavy cream at room temperature
¾ teaspoon vanilla extract
Mix the ingredients until smooth. Frost cupcakes and then set them aside to work on the fondant decorations.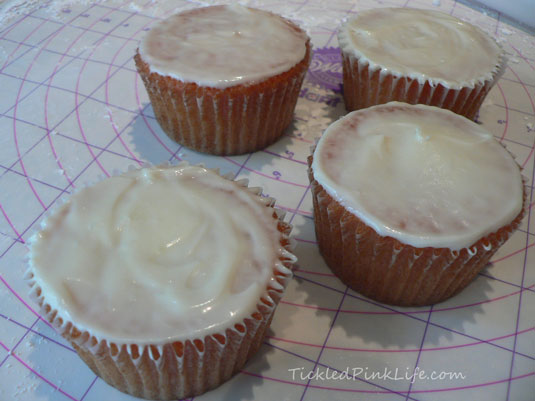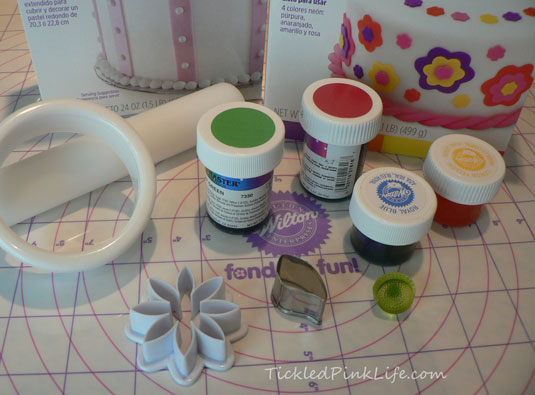 For the decorations, I used pre-made, pre-colored Wilton fondant. I bought two boxes that included white, bright yellow, bright orange and hot pink. I also gathered my collection of icing colors as well as the cutters needed to make the flowers. I used a 2 ½ inch circle, a 1 ½ inch daisy flower, a ½ inch daisy center, and a 1 inch leaf. The leaf cutter I used is not the correct shape for a daisy, which is actually more of a skinny holly leaf shape with jagged edges. I really should have cut them out by hand, but since I am a very slow baker, this project took me a lot longer than it would have for those of you who bake on a regular basis. I confess that by the time I got to the leaves, I cared less about authenticity and more about just getting done! They are still cute, but next time, I'd try to make better leaves.
For the leaves and stems, I used some of the white fondant, and colored it myself. The same process can be done for all of the colors, if you can't find pre-made fondant in the colors that you need.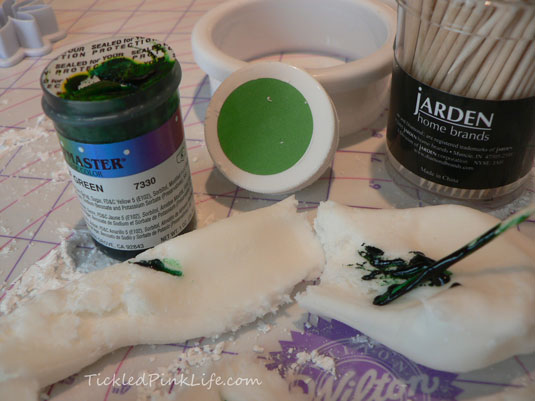 I used a grass green color and applied it to some fondant with a toothpick. The color easily stains your hands and anything else it comes into contact with, so be warned. The fondant was carefully folded and then kneaded and then it was folded and rolled repeatedly until the color was consistent throughout. During this process, a bit of powdered sugar on the mat helps with stickiness.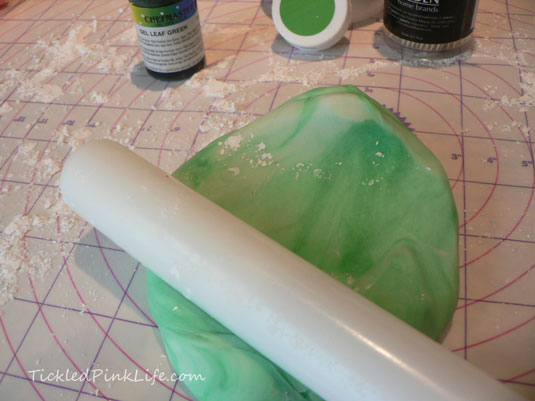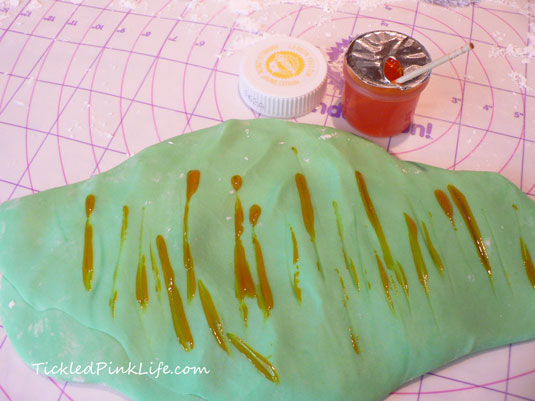 To get more of a lime color, I used the same process to add some yellow.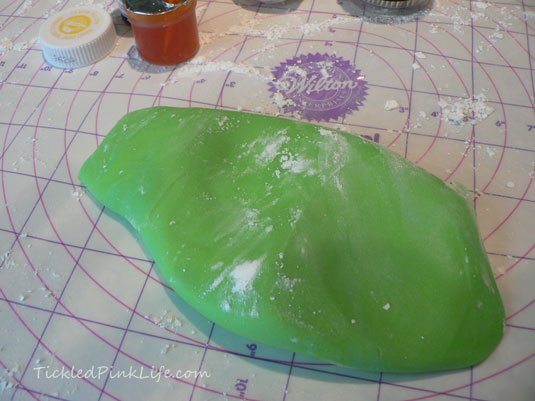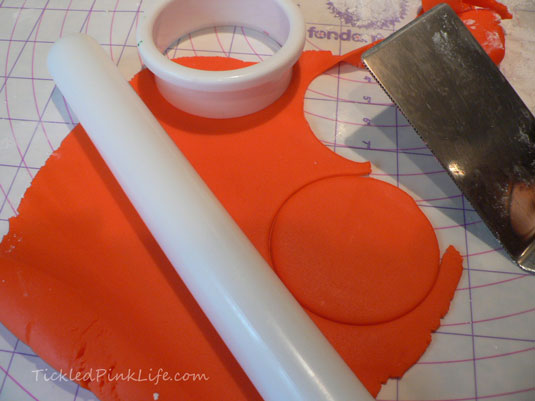 For the decoration base, I rolled out the orange and pink fondants to about 1/8 of an inch, and cut circles. For the flower stems, I hand cut strips from the lime green fondant.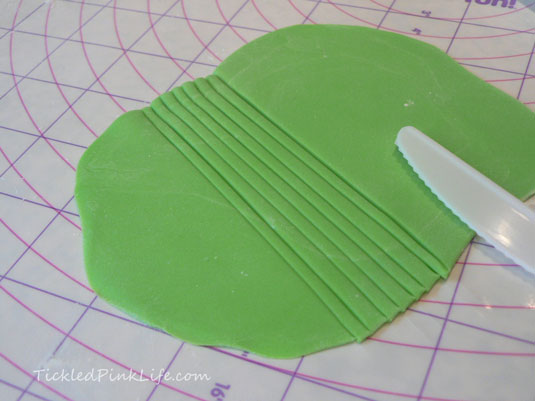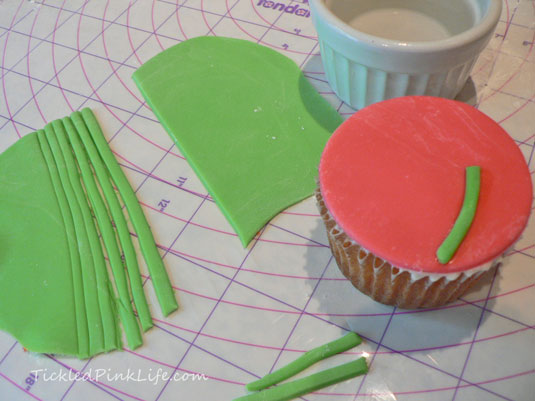 The circles were placed onto the frosted cupcakes and the stems were added. To get the stems to stick to the circle backgrounds, I used a little water to moisten the backs of the stems and then carefully set them into place. Leaves were cut from the lime fondant.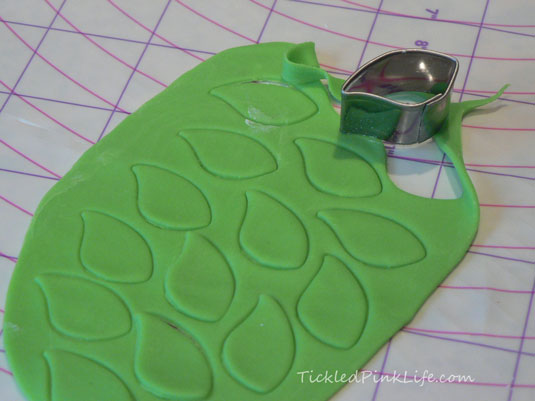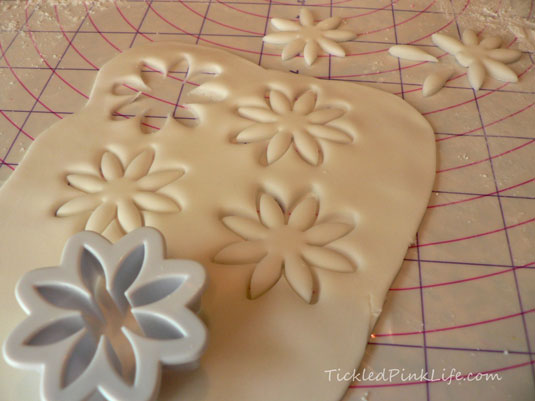 The flowers were cut from the white fondant. Once they were cut out, two of the petals were pinched off and set next to their flowers. The flower centers were cut from the yellow fondant. Since this cutter makes a dome shaped piece, the yellow fondant was rolled out a bit thicker, maybe to about a ½ inch.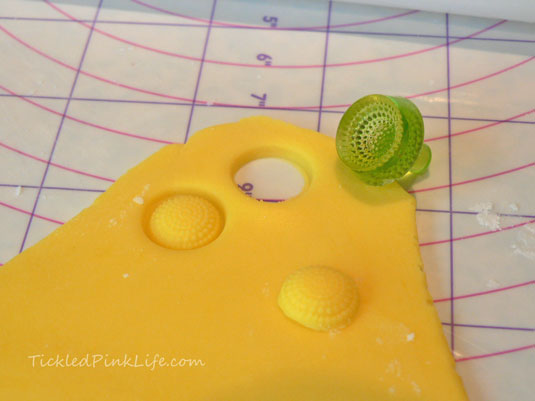 The leaves, flowers, loose petals, and daisy centers were all placed, using a little bit of water to moisten the backs of each fondant piece as it was placed.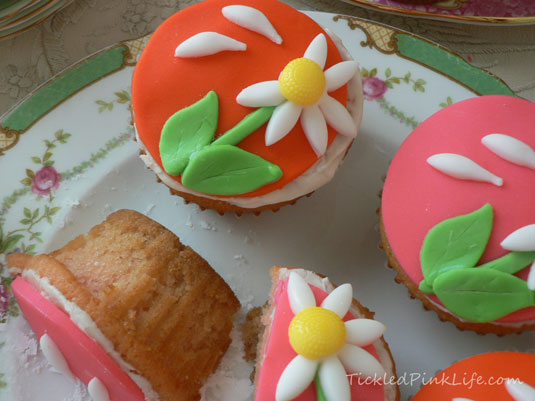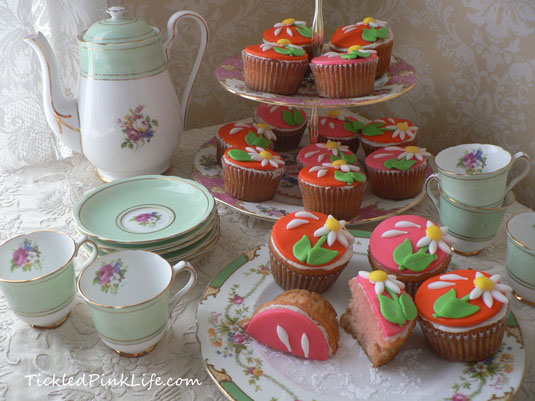 Special thanks to my friend Nicole for sharing her awesome strawberry cupcake and cream cheese frosting recipes. She is an excellent baker, and was happy to provide her expertise. And, knowing my own lack of kitchen skills, I was just happy that I didn't mess up her recipes.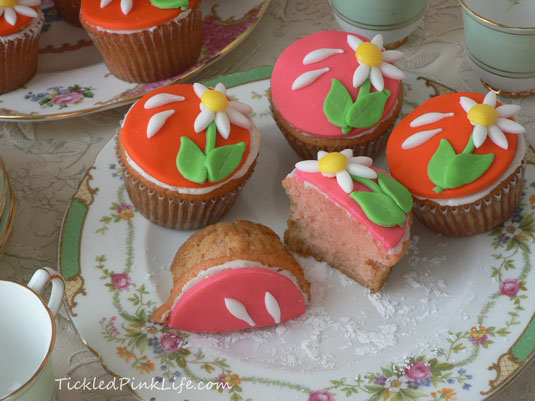 The recipe above makes about one dozen. I made two batches for this project, and took them to my office, where they received rave reviews! Although, now that I think about it, my colleagues will eat nearly anything as long as it's free… Well anyway, everyone thought the cupcakes were really cute and nobody got food poisoning, so that was a plus…
Strawberry daisy cupcakes look stunning on vintage china, are perfect for tea, and are colorful reminders of summer!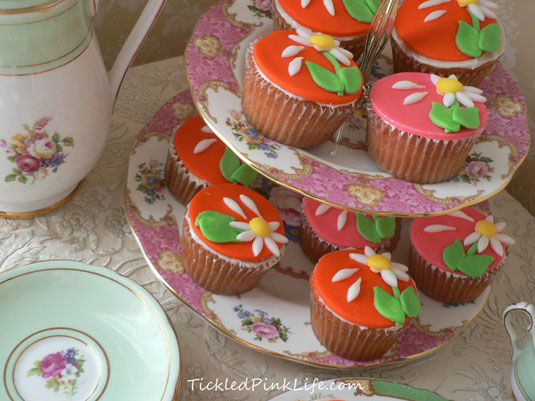 I'm linking up today for Pink Saturday!
On the journey toward Home,