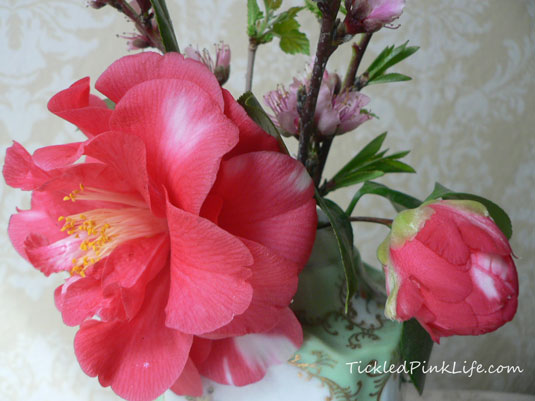 It has been a very mild winter in Southern California, and indeed some days have been downright hot! While it seemed as though we didn't have as many cool days as we should have had, the warmer weather has ushered in spring a bit earlier than usual. Unhappy as that makes my allergies, the blossoming trees and shrubs make my heart glad!
I just love flowers and look for every opportunity to bring them indoors whenever possible. My yard holds just a handful of the first blooms of the season, so in honor of spring I brought them inside to display with other lovelies reminiscent of the garden.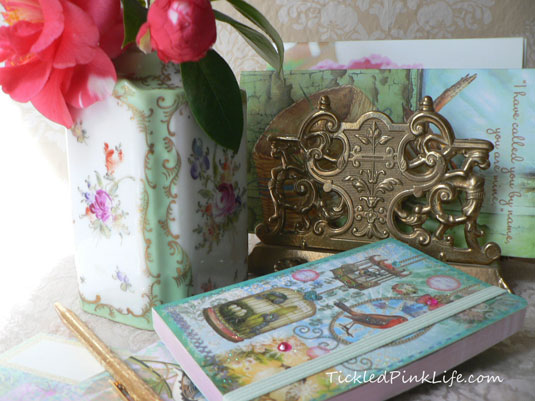 These gorgeous pink camellias are still in bloom, and pair nicely with the antique hand-painted jar. A reproduction letter tray holds beautiful stationary.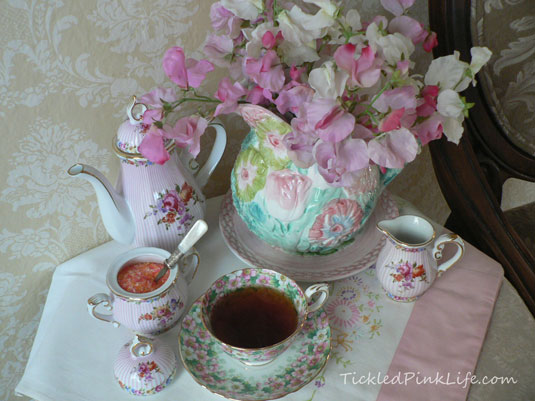 Tea is served over a hand-embroidered linen runner that belonged to my grandmother. The vibrant silk sweet peas in the ceramic pitcher provide a colorful focal point. I love using crystal sugar for tea, as you can make your own color blend to match the china service. A pearl handled antique spoon adds a nice touch too.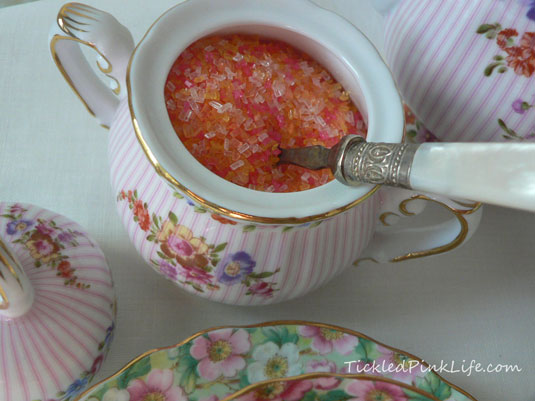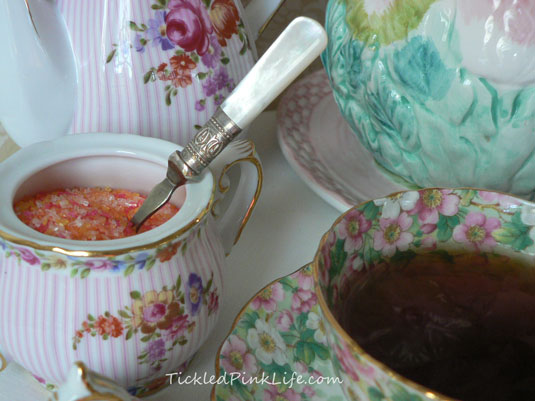 Earl Grey is served in a Crown Staffordshire cup and saucer, with a lovely Dogwood pattern called Blossom Festival.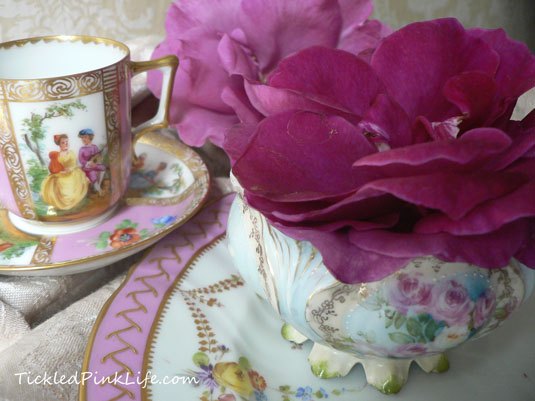 Deep purple roses adorn vintage pieces of Dresden and RS Prussia.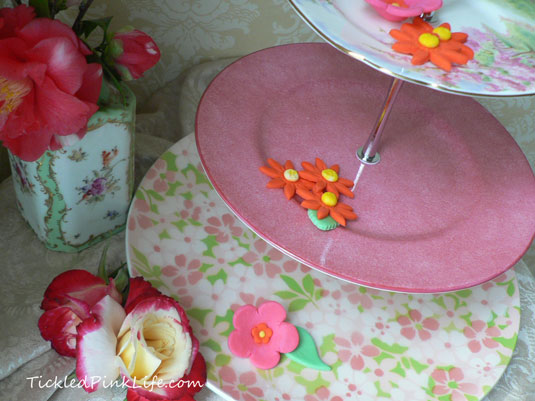 Brilliant colors of pink and green bring the garden to any tea table in this 3-tiered china server. The plates (top to bottom) are Royal Albert Blossom Time, Crown Staffordshire, and Mikasa Country Fashions.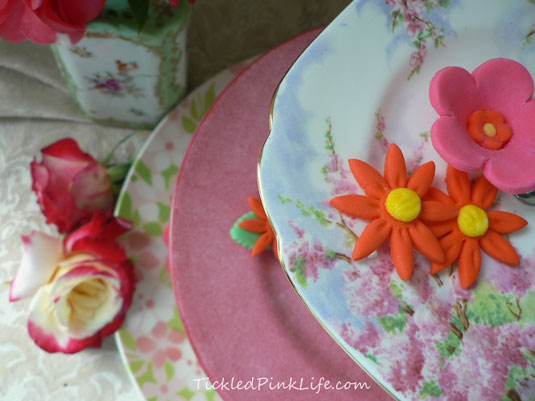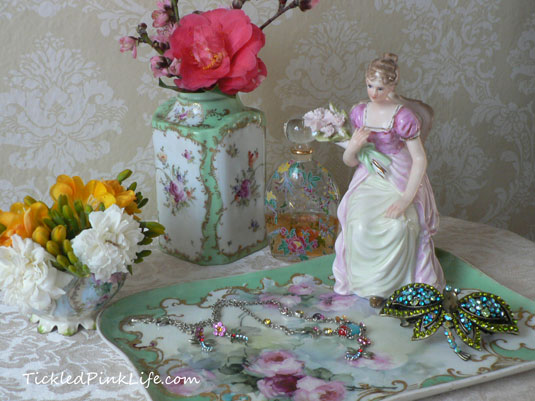 This lovely vignette features a Limoges dresser tray and an antique night-light. A little RS Prussia cup holds yellow freesias and white roses. The jewelry is a unique collection of rhinestones and gems formed into flowers, dragonflies and ladybugs.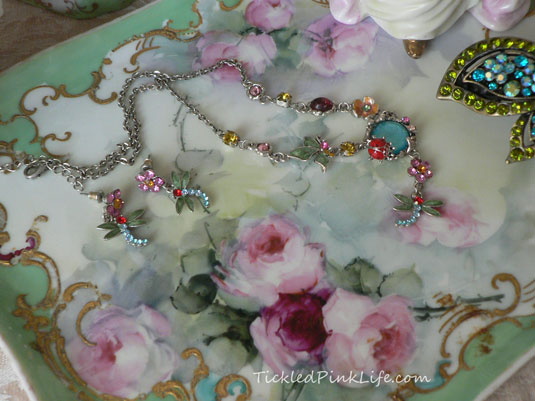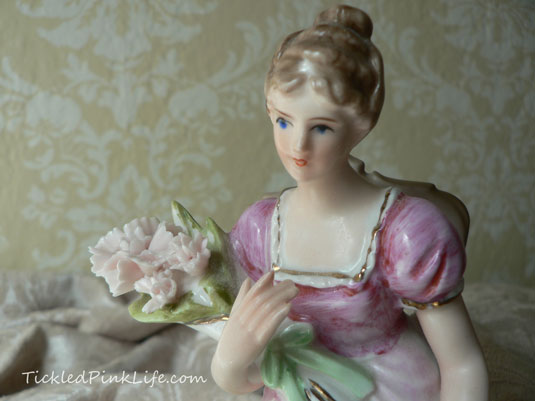 The night-light is one of my favorites and reminds me of Miss Elizabeth Bennet in Jane Austen's Pride and Prejudice. Another floral favorite is this bottle of Laura Ashley No. 1, a perfume which is sadly no longer being made.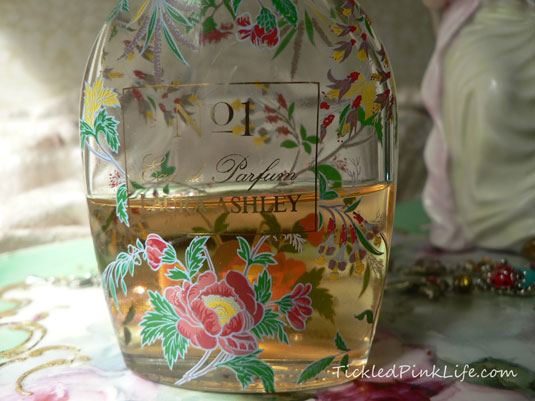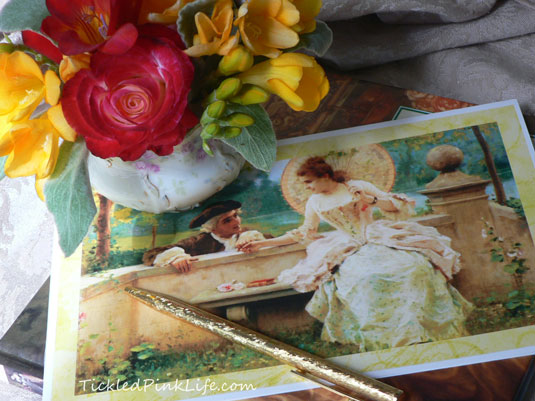 These note cards featuring vintage paintings are a lovely way to send greetings to friends and loved ones. Double Delight roses and yellow freesias are nestled together snugly in this RS Prussia cup.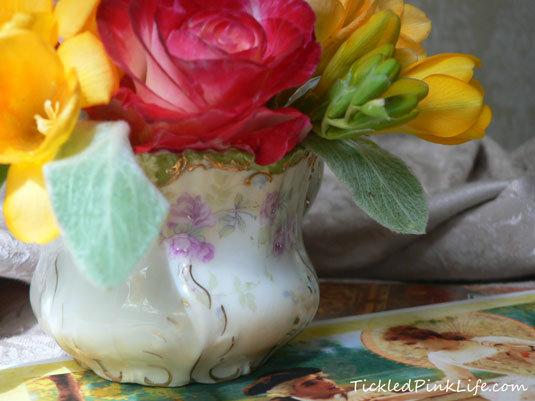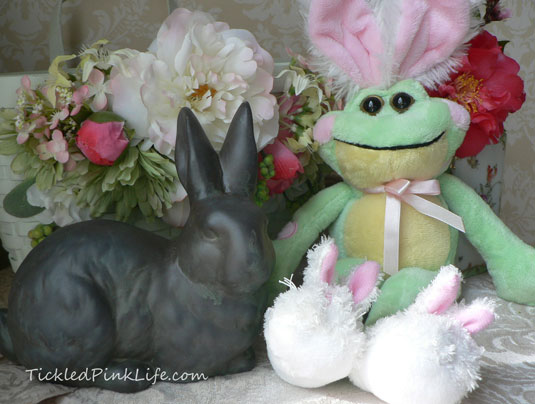 I found this "frabbit" in a gift shop a few years back, and still enjoy bringing him out every Easter! He's such a cute little thing, and I especially love his fuzzy bunny slippers!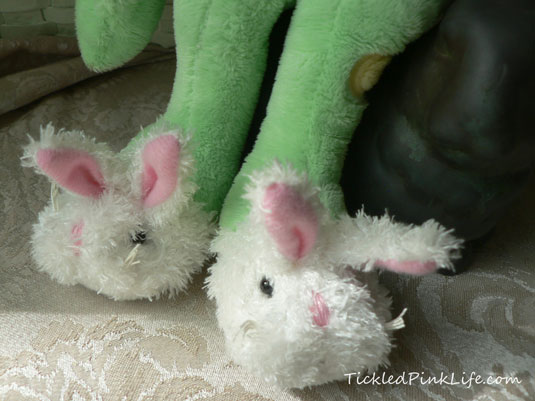 The flowers are blooming and the birds are singing. Spring is here, but it doesn't need to stay outside. A vintage cup can be a flower vase. A floral note card can be a chance to make someone's day a little more special. A steaming cup of Earl Grey in vintage china can provide a moment of rest. And a little bit of floral loveliness can make a room feel more comfortable. Whether fresh or silk, or floral-themed, we can all bring the garden inside. So take an allergy pill if you need to, and bring the spring indoors!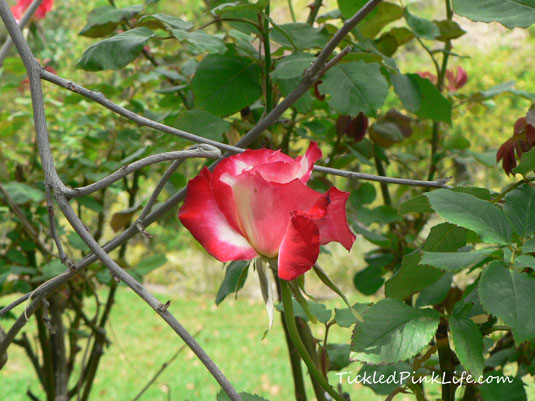 This is the day which the LORD hath made; we will rejoice and be glad in it!  Psalm 118:24, KJV
Linking up with Pink Saturday at How Sweet the Sound!
On the journey toward Home,