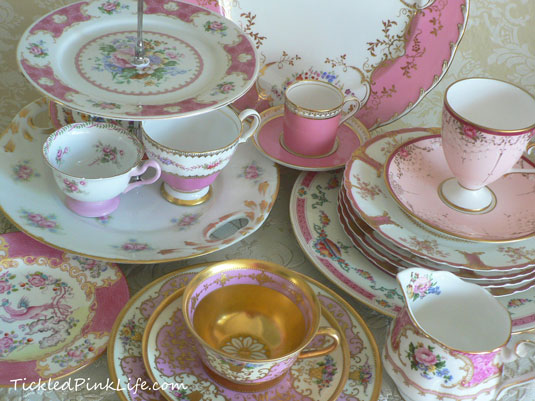 To celebrate Pink Saturday, I thought I'd share some lovely items from my collection of vintage china. Shopping for and acquiring antique dishware is a passion of mine, and as it so happens I have collected quite a few pieces that are exquisitely pink!
The 3-tiered server is a temporary resident in my collection as this piece is currently for sale in my Etsy store. Of course, if it doesn't sell it will become a permanent part of my collection, which wouldn't distress me overly much, since I really love it!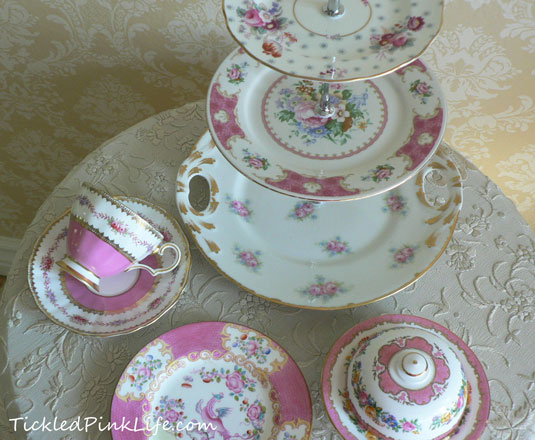 The top tier is a pink floral chintz plate made by Royal Swansea in England, and is the pattern Midsummer (1950). The middle tier is a pink floral reproduction plate made in China, based on the Royal Albert Lady Carlyle pattern of 1944. The bottom tier is a pink floral handled cake plate, made by Limoges in France, and decorated by Bawo & Dotter (1900).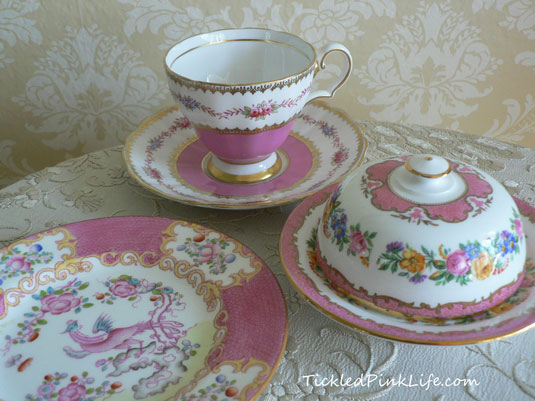 The remaining items in that picture were all made in England. The bread plate is made by Minton (1912-1950), the butter dish is made by Crown Staffordshire (1930-present), and the lovely cup and saucer set was made by Grosvenor/Jackson & Gosling (1912+).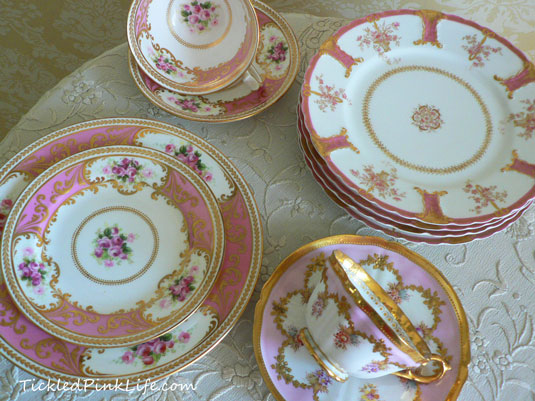 This photo features a lovely dinnerware set made for Harrods by George Jones & Sons (1924-1951). The four tea plates were made by Haviland & Co. Limoges (1888-1896), for the upscale Philadelphia jeweler/retailer Bailey, Banks & Biddle, who incidentally are still in business today and part of the Zale Corporation. The hand painted cup and saucer set is made by Dresden, and bears a mark that was used by many decorators who painted Dresden porcelain (1883-1893).
This hand-painted cup, saucer and plate trio was made/decorated by Hutschenreuther, and bears a designation of Real Dresden Saxonia (1900s). Hutschenreuther was a decorating firm associated with Dresden. The creamer and sugar set are Royal Albert in the Lady Carlyle design, which is a reproduction of the original 1944 pattern.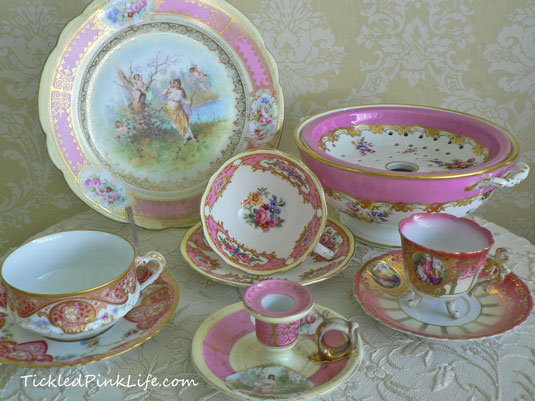 The beautiful plate and candle stick are both marked Imperial Crown China Austria, which was a decorator and importer mark for Bawo & Dotter (1883-1914), who decorated blanks at their studio and then imported them to their offices in New York. The steamer/strainer is unmarked so I don't know the manufacturer or age, but I thought it quite unique and lovely anyway. The cartouche cup and saucer set was made by Foley China in England (1930+). The paisley cup and saucer are Theodore Haviland Limoges from France (1903), and the portrait demitasse cup and saucer are made by Chubu China in Occupied Japan (1945-1952).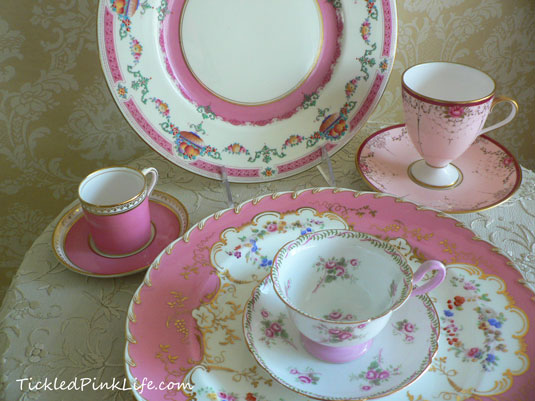 The large plate (foreground) was made by Minton in England for US retailer Burley & Co. in Chicago (1930). The smaller plate (background) was made by Royal Doulton in England (1922-1027). The coffee cup and saucer are Aynsley (1926-1934), and the rose demitasse cup and saucer are Shelley (1938-1966), both sets of which are made in England. The tall and elegant cup and saucer are actually vintage reproductions made by the Nikko Company of Japan. I seem to remember that I picked up this set several years ago, maybe in Boston… I think.
I just love vintage china because the designs are unique, the colors are vibrant and the craftsmanship is excellent. The exquisite hand-painted scenes, floral transfers and gold filigree are not being replicated on modern china.  These pieces are treasures of a bygone era and with each year that passes, more and more of them are damaged, broken or discarded by family members who don't have an appreciation for Grandma's old dishes…. It is especially sad to see a 100-year-old porcelain treasure broken into a million pieces because someone wrapped it in newspaper, and sent it through the mail…sigh…but proper porcelain packing is a topic for another day. For today, make yourself a cup of tea, and enjoy my collection of vintage pink!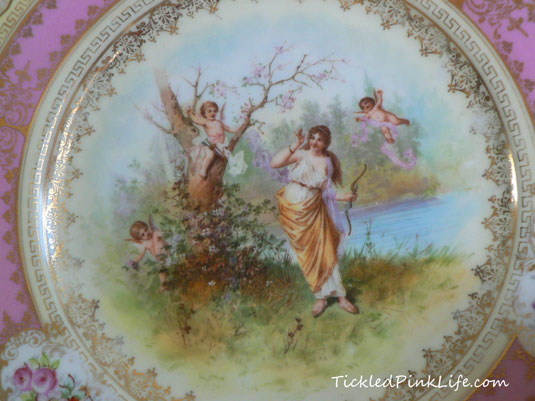 I'm linking up today for Pink Saturday!
On the journey toward Home,