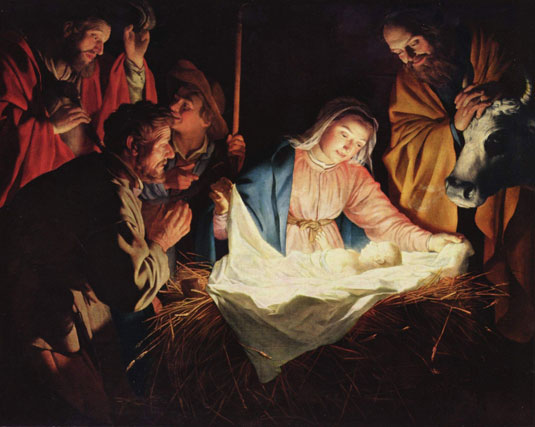 Through the prophet Isaiah, a promise is given.
Therefore the Lord himself shall give you a sign; Behold, a virgin shall conceive, and bear a son, and shall call his name Immanuel.  Isaiah 7:14, KJV
For unto us a child is born, unto us a son is given: and the government shall be upon his shoulder: and his name shall be called Wonderful, Counsellor, The mighty God, The everlasting Father, The Prince of Peace. Of the increase of his government and peace there shall be no end, upon the throne of David, and upon his kingdom, to order it, and to establish it with judgment and with justice from henceforth even for ever. The zeal of the Lord of hosts will perform this.  Isaiah 9:6-7, KJV
Malachi also spoke about the promised Messiah.
But unto you that fear my name shall the Sun of righteousness arise with healing in his wings; and ye shall go forth, and grow up as calves of the stall.  Malachi 4:2, KJV
Malachi was the last of the Old Testament prophets to speak of the promise before God's voice became silent. Four-hundred years passed before the silence is finally broken—by the cry of a child.
Now the birth of Jesus Christ was on this wise: When as his mother Mary was espoused to Joseph, before they came together, she was found with child of the Holy Ghost. Then Joseph her husband, being a just man, and not willing to make her a public example, was minded to put her away privily.
But while he thought on these things, behold, the angel of the Lord appeared unto him in a dream, saying, Joseph, thou son of David, fear not to take unto thee Mary thy wife: for that which is conceived in her is of the Holy Ghost. And she shall bring forth a son, and thou shalt call his name Jesus: for he shall save his people from their sins.
Now all this was done, that it might be fulfilled which was spoken of the Lord by the prophet, saying, Behold, a virgin shall be with child, and shall bring forth a son, and they shall call his name Emmanuel, which being interpreted is, God with us.
Then Joseph being raised from sleep did as the angel of the Lord had bidden him, and took unto him his wife: And knew her not till she had brought forth her firstborn son: and he called his name Jesus.  Matthew 1:18-25, KJV
On that first Christmas, the promised Messiah is born.
The great I Am stepped into our world as a human baby, destined to be the sacrificial lamb that would make the final atonement for our sins. He became the door through which all those who believed on his Name, would gain entry back into the presence of God.
That is the miracle of Christmas—that God would choose to become sin for us, and pay a debt that he did not owe, for us, who owed a debt that we could not pay. Through Jesus, we are covered by the blood of the only Lamb who can grant us forgiveness and eternal fellowship with God.
May his peace be yours this Christmas.
On the journey toward Home,