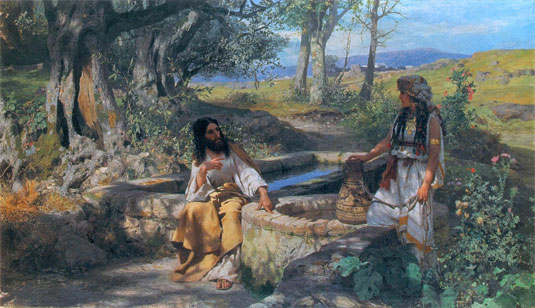 The story of the Samaritan woman, or the woman at the well, takes place during Jesus' ministry, and is found in John chapter 4. He and his disciples have left Judea and are traveling back to Galilee. On the way they stop at a Samaritan town called Sychar. On the outskirts of this town is a plot of land that Jewish patriarch Jacob had given to his son Joseph, and on that piece of property is Jacob's well.
The disciples go into town to buy food, but Jesus remains behind alone. It is about noon and the weather is warm. He is tired from his journey and thirsty, so he stops at the well to rest. As Jesus waits for the disciples to return, a Samaritan woman approaches to draw water. The sun being high and the day being warm, the area around the well is otherwise deserted. Jesus takes the opportunity of privacy to engage her in conversation.
"Will you give me a drink?" he asks. The young woman is startled. She didn't expect him to take notice of her, let alone speak to her. After all, she is a Samaritan and he is a Jew. Culturally, the Jews took great pains to avoid her people, and her being a woman she expected to be ignored altogether.
And, if this stranger only knew her situation, she was sure he'd really make an effort to avoid her. It should be obvious why she's out here drawing water in the heat of the day—so she'd not be confronted by the usual whispers, stares and finger-pointing.
Perhaps she thinks Jesus a bit daft for not recognizing the inappropriateness of his conversation with her, so she tells him.
The Samaritan woman said to him, "You are a Jew and I am a Samaritan woman. How can you ask me for a drink?" (For Jews do not associate with Samaritans.)  John 4:9, NIV
While she kept all of her "if you only knew" thoughts to herself, Jesus heard every silent word left unspoken. He responds with an "if you only knew" statement of his own.
Jesus answered her, "If you knew the gift of God and who it is that asks you for a drink, you would have asked him and he would have given you living water."  John 4:10, NIV
Perhaps by now, she thinks this strange man is mocking her. He offers her water, but has no container with which to draw from the well. She is confused. He speaks of living water. Can the water he describes be drawn from Jacob's well?
Jesus answered, "Everyone who drinks this water will be thirsty again, but whoever drinks the water I give them will never thirst. Indeed, the water I give them will become in them a spring of water welling up to eternal life."  John 4:13-14, NIV
She's not sure if she understands all of this, but she's interested. Jesus then steers the conversation in another direction. Reluctantly, she offers a partial confession.
He told her, "Go, call your husband and come back." "I have no husband," she replied. Jesus said to her, "You are right when you say you have no husband. The fact is, you have had five husbands, and the man you now have is not your husband. What you have just said is quite true."  John 4:16-18, NIV
"Wow!" she thinks. "This man knows everything about me—and he's still talking to me." How could this be? Gracefully, he had confronted her with her sin. She was convicted. She wanted to change. She wanted to seek God, but how does she do that? The Jews had certain rules of worship which excluded her people. Recognizing him as a prophet, she asks Jesus to clarify the law. Instead he gives her the gospel message.
"Woman," Jesus replied, "believe me, a time is coming when you will worship the Father neither on this mountain nor in Jerusalem. You Samaritans worship what you do not know; we worship what we do know, for salvation is from the Jews. Yet a time is coming and has now come when the true worshipers will worship the Father in the Spirit and in truth, for they are the kind of worshipers the Father seeks." John 4:21-23, NIV
This is a radical change from the law she lives under. What this man describes is a freedom she's never experienced, an acceptance she's never known, and forgiveness she's never received. She wants to be that kind of worshipper. Then the prophet makes a stunning declaration.
The woman said, "I know that Messiah" (called Christ) "is coming. When he comes, he will explain everything to us." Then Jesus declared, "I, the one speaking to you—I am he."  John 4:25-26, NIV
Overwhelmed with excitement, she leaves her pot at the well and rushes into town to tell her neighbors about the man claiming to be the promised Messiah. Some initially mistrust her account, but after hearing Jesus speak, many others also believe.
Many of the Samaritans from that town believed in him because of the woman's testimony, "He told me everything I ever did." So when the Samaritans came to him, they urged him to stay with them, and he stayed two days. And because of his words many more became believers. They said to the woman, "We no longer believe just because of what you said; now we have heard for ourselves, and we know that this man really is the Savior of the world."  John 4:39-42, NIV
One fallen woman at a well was used by God to bring countless others to faith. And for the woman herself, Jesus provided grace and an opportunity to leave her past behind.
The Samaritan Woman's story was one of sinfulness, but God's provision was one of forgiveness.
Join me tomorrow for a story involving a benevolent king, a midnight survey, and a provision of joy!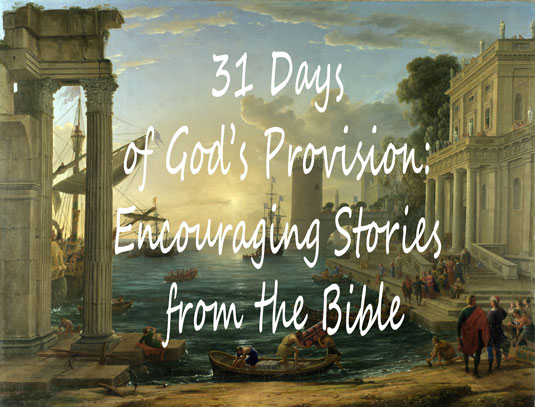 If you've missed any part of this series, you can find all of the posts in the side bar category 31 Days of God's Provision.
On the journey toward Home,