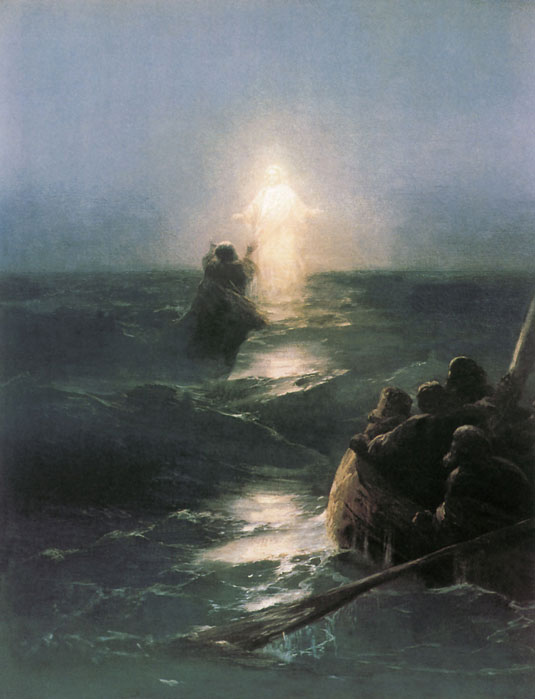 During the ministry of Jesus, he and his disciples had traveled to the area of Bethsaida on the north eastern shore of the Sea of Galilee. The cousin of Jesus, John the Baptist, had just been executed and Jesus wanted some time to be alone. Although they'd traveled to Bethsaida to get some rest, a large crowd had followed them there from Capernaum. Having compassion for the people, Jesus preached to them, healed their sick and multiplied five loaves and two fish to feed the whole lot of them.
When our story opens, night is falling and Jesus is dismissing the people. His plan is to head across the lake back toward Capernaum, but first he wants to spend some time alone in prayer. He tells the disciples to go on ahead and he'd catch up with them later. They get into the boat and push off, as Jesus walks up a mountainside to pray. Sometime later, Jesus walks back down to the shoreline, where he sees the impeded progress of the disciples on the lake.
Later that night, the boat was in the middle of the lake, and he was alone on land. He saw the disciples straining at the oars, because the wind was against them. Shortly before dawn he went out to them, walking on the lake. He was about to pass by them, but when they saw him walking on the lake, they thought he was a ghost. They cried out, because they all saw him and were terrified. Immediately he spoke to them and said, "Take courage! It is I. Don't be afraid."  Mark 6:47-50, NIV
Peter is emboldened by the sight of Jesus, and being one who routinely throws caution to the wind, he makes a bold request.
"Lord, if it's you," Peter replied, "tell me to come to you on the water." "Come," he said. Then Peter got down out of the boat, walked on the water and came toward Jesus. But when he saw the wind, he was afraid and, beginning to sink, cried out, "Lord, save me!"
Immediately Jesus reached out his hand and caught him. "You of little faith," he said, "why did you doubt?" And when they climbed into the boat, the wind died down. Then those who were in the boat worshiped him, saying, "Truly you are the Son of God."  Matthew 14:28-33, NIV
Jesus uses this teaching moment not only to reiterate his sovereignty over nature, but also to show the disciples their power in Christ when they keep their focus on him. As long as Peter strove toward Jesus, he too defied the laws of nature. But as soon as Peter was distracted by his circumstances, his logical mind took over and he remembered that he was defying the laws of nature. When he looked to his own ability, Peter knew that what he was doing was impossible, and so he began to sink. Jesus of course, saves him, but the illustration of walking by faith, is a powerful one.
Now, in all honesty, we shouldn't be too hard on Peter. After all, he was the only disciple brave enough to get out of the boat in the first place. (As a non-swimmer myself, not only would I have not ventured out of the boat, I would have been wearing my life-jacket at all times while in the boat, or better yet, would have hired a donkey to take me around the edge of the lake and avoided the boat altogether, but I digress…)
A group of tired disciplines venture out onto the lake at night, and meet with fierce winds, high waves and a ghostly figure on the horizon. Panic grips their hearts and they cry out in fear, but Jesus reassures and comforts them. He reminds his disciples that through him, all things are possible.
Jesus replied, "What is impossible with man is possible with God."  Luke 18:27, NIV
The Disciples' story was one of fear, but God's provision was one of comfort.
Join me tomorrow for a story involving a desperate woman, a tassel, and a provision of healing!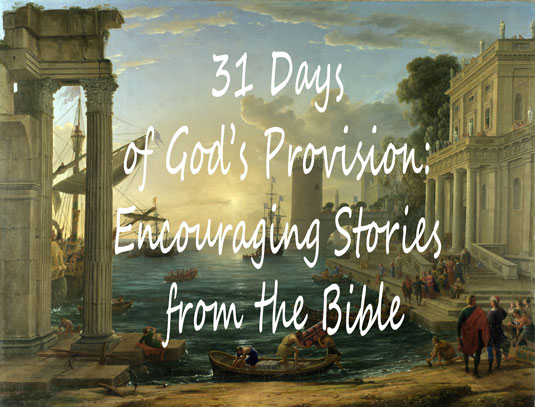 If you've missed any part of this series, you can find all of the posts in the side bar category 31 Days of God's Provision.
On the journey toward Home,