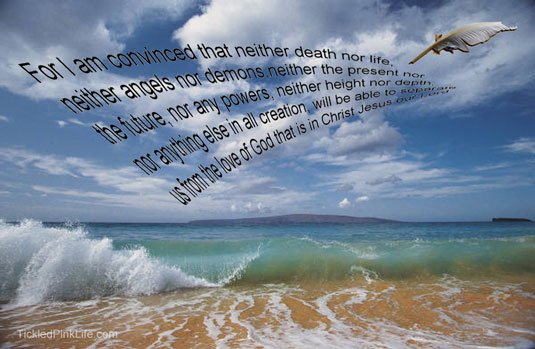 When I consider your heavens, the work of your fingers, the moon and the stars, which you have set in place, what is mankind that you are mindful of them, human beings that you care for them? Psalm 8:3-4, NIV
Sometimes when I think about the awesome greatness and majesty of God, I am overwhelmed by my smallness. He is mighty and powerful and holy. And I am a tiny speck of a person, without influence, wealth or power on a tiny speck of a planet on the edge of a galaxy in a sea of galaxies. Who am I that God should even think about me at all, let alone care for me?
I've always struggled with the concept of God's love for me. I totally get how God could love Billy Graham, because quite frankly, he's an awesome preacher! But how he loves me is more of a mystery. Now, I know that misguided notion is a bad habit we pick up from society, where our status as either a "somebody" or a "nobody" is determined by how "valuable" society perceives us to be. But nonetheless, it's a hard habit to break, especially when the enemy is constantly whispering lies to us. He lied to Eve in the Garden, insinuating that God was depriving her of something she needed, when in fact God was trying to keep her safe because he loved her. But the enemy planted the seed of doubt in her heart and we've had trouble believing in God's love for us ever since.
Maybe it's because we find that love so difficult to understand, that God has reiterated it so often in his Word!
This is how God showed his love among us: He sent his one and only Son into the world that we might live through him. This is love: not that we loved God, but that he loved us and sent his Son as an atoning sacrifice for our sins. 1 John 4:9-10, NIV
But because of his great love for us, God, who is rich in mercy, made us alive with Christ even when we were dead in transgressions —it is by grace you have been saved. Ephesians 2:4-5, NIV
But God demonstrates his own love for us in this: While we were still sinners, Christ died for us. Romans 5:8, NIV
For God so loved the world that he gave his one and only Son, that whoever believes in him shall not perish but have eternal life. John 3:16, NIV
One of my favorite hymns is The Love of God, written by Frederick Lehman in 1917. The third stanza is based upon a Jewish poem, reportedly written hundreds of years earlier by a Rabbi in Germany.
The love of God is greater far
Than tongue or pen can ever tell;
It goes beyond the highest star,
And reaches to the lowest hell;
The guilty pair, bowed down with care,
God gave His Son to win;
His erring child He reconciled,
And pardoned from his sin.
O love of God, how rich and pure!
How measureless and strong!
It shall forevermore endure
The saints' and angels' song.
When years of time shall pass away,
And earthly thrones and kingdoms fall,
When men, who here refuse to pray,
On rocks and hills and mountains call,
God's love so sure, shall still endure,
All measureless and strong;
Redeeming grace to Adam's race—
The saints' and angels' song.
Could we with ink the ocean fill,
And were the skies of parchment made,
Were every stalk on earth a quill,
And every man a scribe by trade,
To write the love of God above,
Would drain the ocean dry.
Nor could the scroll contain the whole,
Though stretched from sky to sky.
The Christian group MercyMe has beautifully recorded this hymn on their cd Spoken For. They perform it live in the following video.
Our love for God certainly waivers, but his love for us remains steadfast, faithful and eternal. Be encouraged today that the God of the universe sees you, knows you and loves you!
For I am convinced that neither death nor life, neither angels nor demons, neither the present nor the future, nor any powers, neither height nor depth, nor anything else in all creation, will be able to separate us from the love of God that is in Christ Jesus our Lord. Romans 8:38-39, NIV
On the journey toward Home,