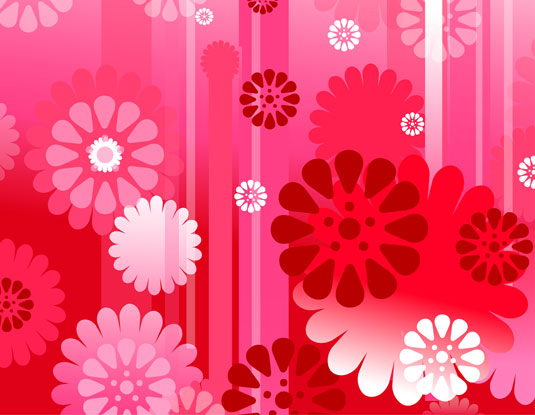 Welcome to another edition of Pink Saturday where we celebrate and immerse ourselves in all things pink! This week I combine my beloved color with one of my favorite topics to bring you Flower Power! Yes, that's right-listed here are ten lovelies that feature both pink and flowers. First up is the very cool retro design above, which is available in the public domain from Microsoft Office. This link has a nice selection of images, clip art, and some very useful document templates as well.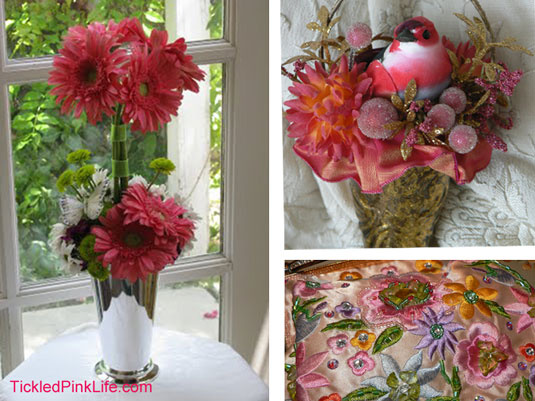 Here are three great craft ideas that incorporate pink flowers. The mushroom bird sits in a nest of tiny silks, and was part of a collection I carried in my eBay store (now closed). The beaded purse, I purchased at a gift shop in Balboa Park many years ago, but the concept could easily be applied to adorn a little bag of your own. Finally, the gerbera topiary is a design of my sister, who created this little gem for a client for Professional Assistant's Day (I guess that means they're not called secretaries anymore). Anyway, this arrangement was done with fresh flowers, but silks could be used as well. Her work can be seen at her website The Gardens at Pemberley, and at her blog.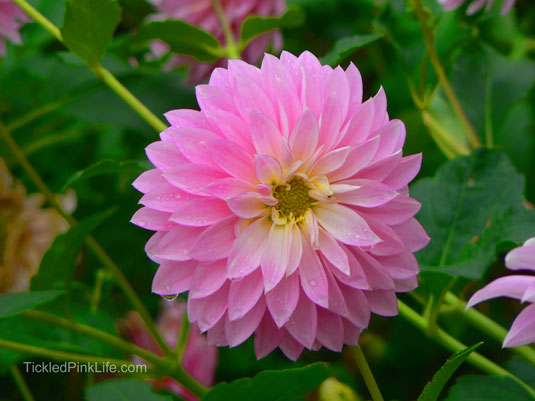 Next up is a gorgeous dahlia I photographed during a fall visit to Longwood Gardens. If ever you find yourself wandering through the state of Pennsylvania, you simply must stop to see Longwood. This former du Pont estate features magnificent fountains, tranquil woodlands and a huge conservatory which houses the most beautiful collection of orchids I have ever seen.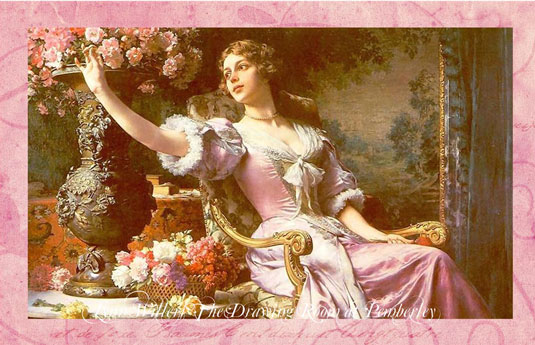 This gorgeous painting from 1903 by Polish artist Wladyslaw Czachorski, is featured in my Vintage Couture Collection of greeting cards which are available in my Etsy shop. Public domain images of vintage artwork, whose copyrights have expired due to their age, can be found through Wikimedia Commons. The exquisite detail of this painting is just breathtaking, and I could so see myself in that scene…if only I could fit into that dress…sigh…let's move on…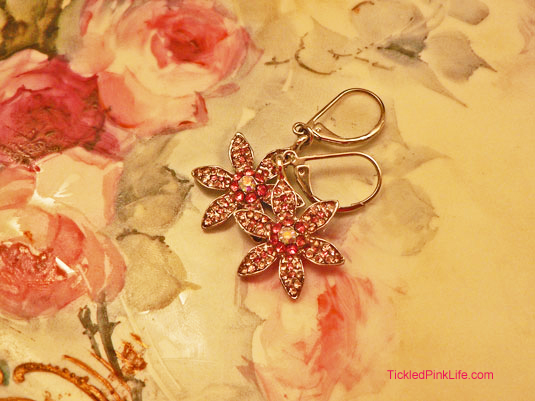 Recently I purchased this lovely pair of earrings from my friend Marina, who has a Cookie Lee Jewelry web page. She was hosting a fund raiser for her friend Ashley, who was raising money for a missions trip to the Philippines. Generally, I am not a big jewelry person, but found these little flowers in my favorite color! So I made the purchase and got the earrings. Marina made a sale and Ashley earned money for her trip. Friends helping friends is a win-win-win for everybody!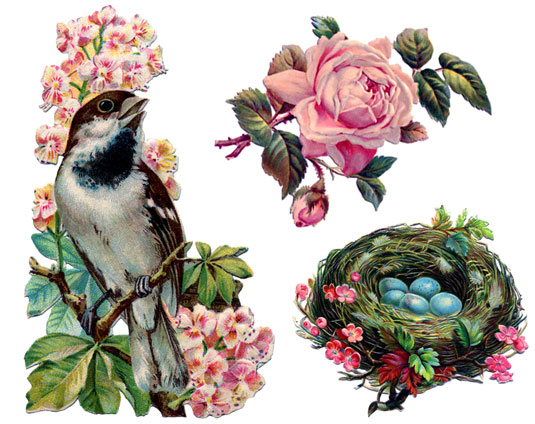 The Graphics Fairy blog is one of my favorite places to find free vintage clip art. If you love Victorian images like I do, you'll want to visit and bookmark this blog today!
A few months ago I acquired this Royal Doulton dinner plate at a local estate sale. The back stamp indicates the plate was made sometime in the 1920's. As a subscriber to Estatesales.net, I receive weekly e-mails notifying me of all the estate sales in my area. This free service is very convenient and a must-have for bargain antique hunters!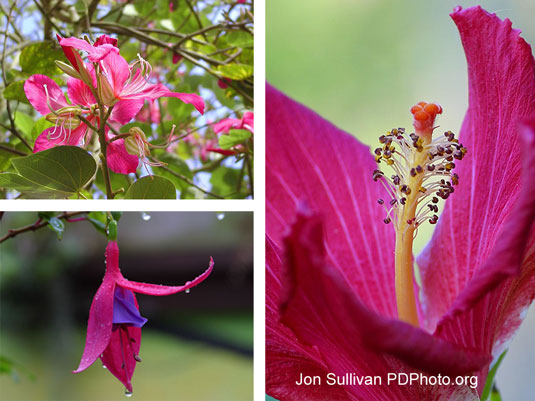 Jon Sullivan hosts a site at pdphoto.org, providing exquisite images he's released into the public domain-another site you'll want to bookmark today!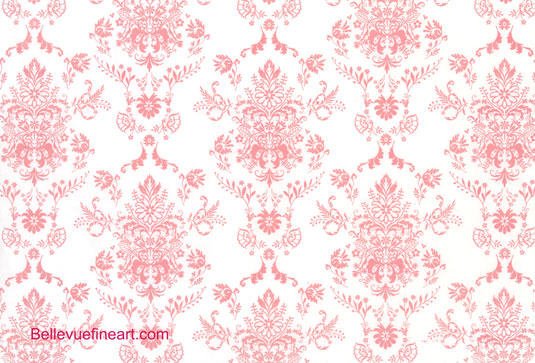 This pink damask design is reminiscent of beautiful vintage wallpaper. The free digital texture is offered by Bellevuefineart.com and is available for free download from their flickr page.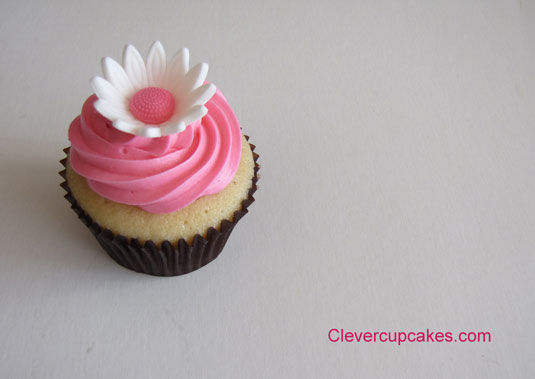 Lastly, no pink flower collection would be complete without something made of fondant! This lovely little morsel is brought to you by Clevercupcakes.com, and while their website indicates they are no longer making cupcakes, the elegant design is simply fabulous and one you could replicate yourself with a flower fondant cutter.
Well I hope you've been inspired to visit some of these sites and create a bit of
Flower Power
of your own! Don't forget to visit Beverly at
How Sweet the Sound
, so you can peruse all the other blogs who are celebrating pink today!
On the journey toward Home,