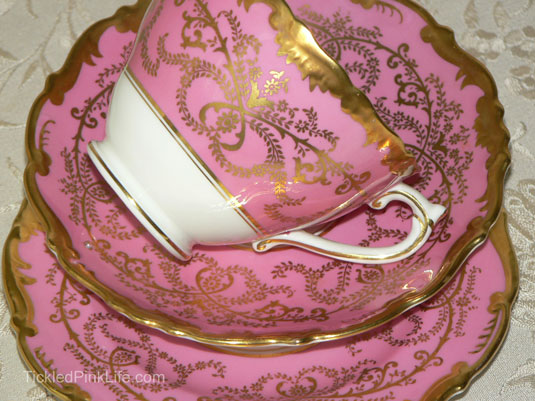 It's Pink Saturday over at How Sweet the Sound, and I am linking up with my newly acquired Coalport china trio. I learned about Pink Saturday last week, and couldn't wait to participate! What could be more fun than a whole day dedicated to my favorite color?!  And knowing that I've got so many lovely pink things to share, I just knew I'd be able to participate in Pink Saturday for years to come! Beverly will probably regret ever having invited me…
So how did I happen upon this gorgeous English porcelain set, you ask? Well, lately I have been familiarizing myself with all things Etsy, having recently moved my little store from ebay. I wanted to start a treasury list, which is a really cool way of collecting sixteen images of items that all have a common theme. My first list had to be of course-my favorite color, and thus began my Etsy hunt for all things pink! And not just any ole pink, but items that were truly unique, magnificent, awe-inspiring, and "wow-I-must-simply-have-that" pink!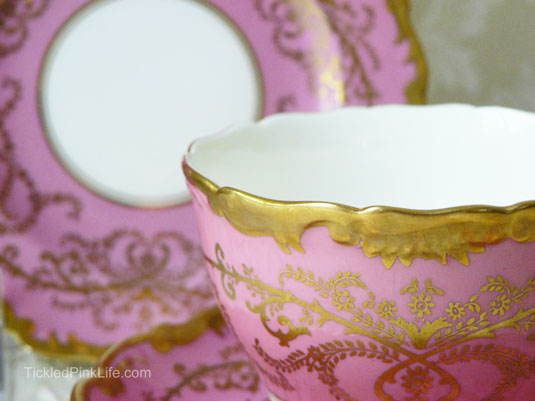 When I found this Coalport trio, I just had to pin it! I mean, treasury it! (Is it just me, or does anyone else find themselves forgetting exactly where they are in the social-media-networking-maze? "Let's see, I can put this in my Etsy treasury, and then pin it, and then tweet the pin with a post on facebook that goes back to my blog, to stumble upon ….."- the media interconnectivity is mind boggling but that's another post for a different day-back to Pink Saturday!)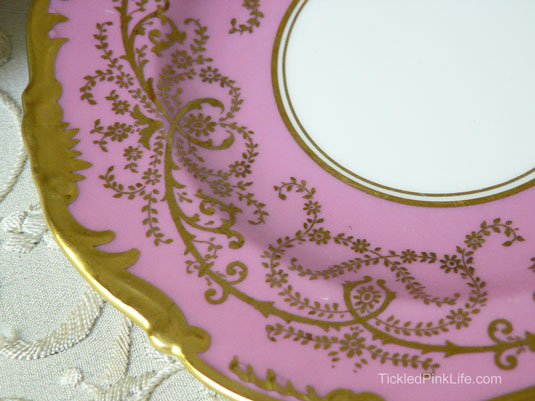 This Coalport trio is one of my favorite colors of porcelain. It is in a Sevres-style or old Paris color of pink, and the gold accents just add to the beauty. The post-war mark dates this set to about 1946+. The pattern is called Anniversary. Isn't that sweet? I'm sure that many a post-war bride would have loved to have received a set of this china for her anniversary!
The set was so gorgeous, that I just had to purchase it! Exquisite porcelain is a weakness of mine I confess. And while I'm confessing, I may as well tell you that many pieces in my vintage china collection are in fact, PINK, so I'm sure I will be able to share every last one of them with you, my dear reader! Lucky you….!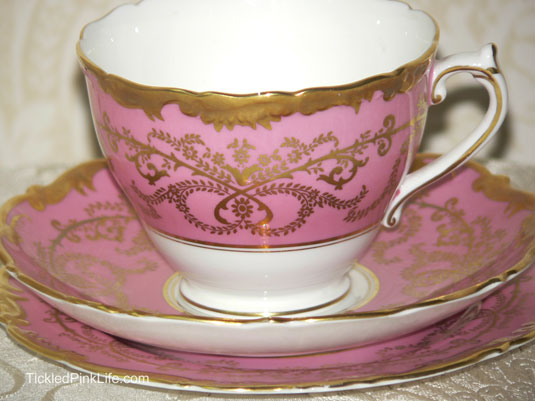 Well that is my little contribution to Pink Saturday. For more pink loveliness, you are welcome to peruse my Perfectly Pink treasury, in which you will find other wonderfully pink items for sale on Etsy!
Be sure to visit How Sweet the Sound for more Pink links!
On the journey toward Home,