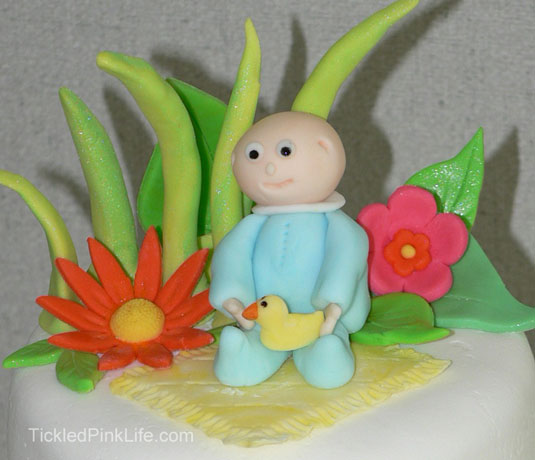 April showers bring May flowers… or in this case—March showers, because it is pouring down rain, as I write today about planning a spring-themed baby shower tea! In any case, I want to share some ideas that you may find useful in hosting a shower of your own.  A small group of ladies in my office wanted to give one of our colleagues a baby shower. The design concept started with the idea of a colorful depiction of spring. Since I am all about bringing out the floral in every project, I suggested using vibrant flower colors and then work to tie in the cake design, table arrangements, and buffet table centerpiece. We decided on a tea, because it is an easy way to provide refreshments in a special and elegant way.
A focal point of every baby shower is of course the cake. We had looked at several local bakeries, but found the cost a bit prohibitive, so I volunteered to handle the cake situation. Yeah, I know what you're thinking, and you would be right—I don't really bake all that well. But I am fairly good at design elements, so I had a local bakery make two cake tiers, and I thought I could do the fondant myself. After all, I knew the basic mechanics of fondant placement after watching several episodes of Amazing Wedding Cakes on TV. How hard could it be?
Um, yeah. Okay, so covering the tiers with fondant is a lot more difficult than it looks! Next time, I will let the bakery do all the baking and fondant covering and I'll just stick with the decorative elements. If cost is not a factor for you, or if you're not inclined to design the cake yourself, there are some pretty awesome bakeries that can do that for you. If you'd like to attempt the design elements yourself, there are all sorts of fondant cutters, tools and tutorials available to help you get started. I found three particularly helpful: Make Fabulous Cakes, Top Party Ideas and Meet Me in the Kitchen.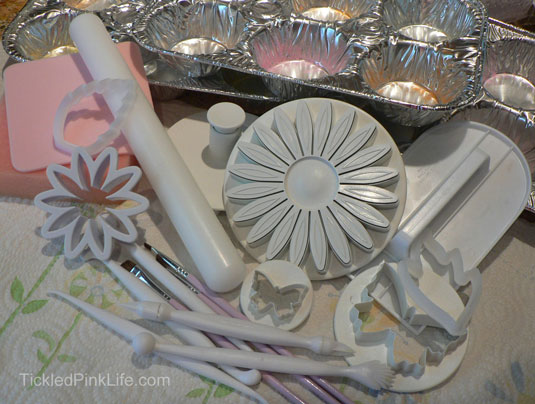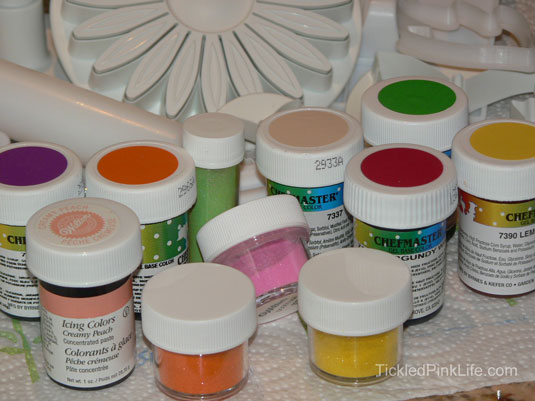 For the flowers, leaves, and tall grasses, I used colored fondant in the shades I needed. On some flowers I placed a second cut out, which was attached with a little bit of water on the back side to make it sticky. The grasses were formed by rolling, and then shaping by hand. Once cut or shaped, I dusted the floral elements with an edible shiny dusting powder. To allow for some of the flowers to harden into curved shapes, I placed them into cupcake tins.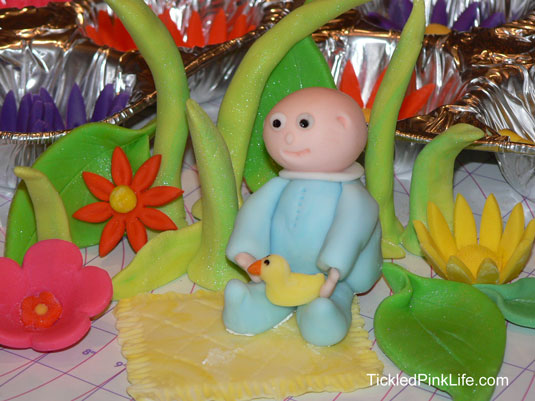 For the baby, the blanket and the duck, I used white fondant and colored it myself using icing coloring. These are fairly strong, so I apply a bit of coloring to a bit of fondant with a toothpick and then knead until the color is consistent throughout. For the baby's skin tone I used just a little bit of peach coloring mixed into white fondant, to give him that pinky baby glow. The little baby was modeled after the awesome designs made by Vera's Cakes in Monrovia, CA.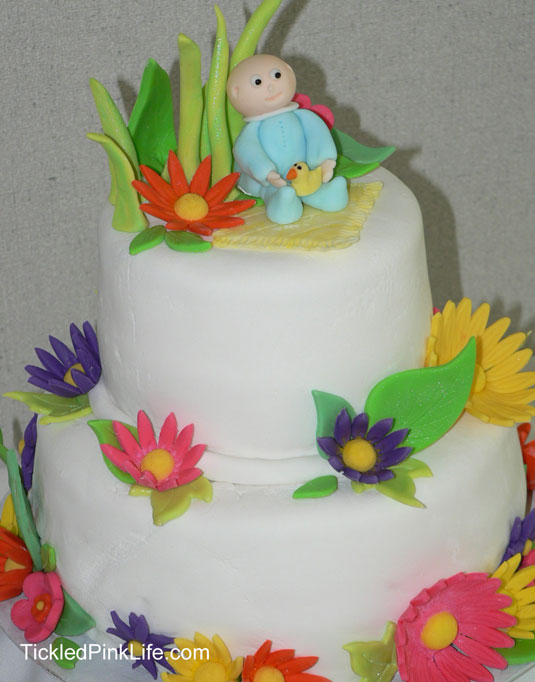 Once all of the design elements were completed, I placed them onto the cake, again using a little bit of water to moisten the point of contact, and make it a bit sticky.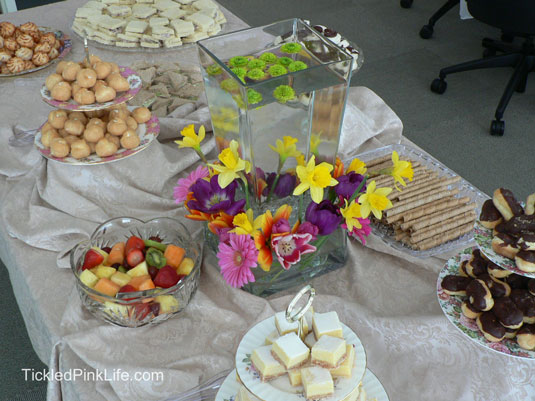 The buffet table featured scrumptious tea sandwiches, scones, cookies and delightful desserts! To save money, our small committee made most of the food ourselves, and lent our own linen tablecloths. Our sandwiches included chicken cranberry, egg salad, cucumber and hummus on pita bread. Some of these recipes were found online at Great Party Recipes. Tiered servers and china platters presented an elegant display, as did the tall floral centerpiece.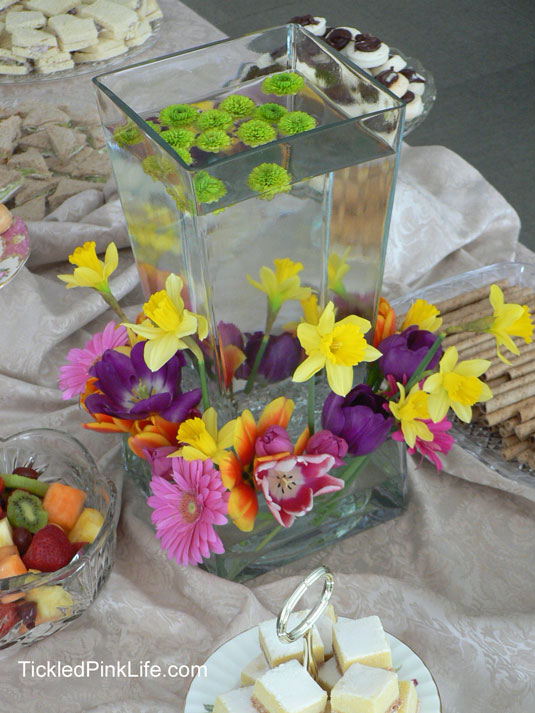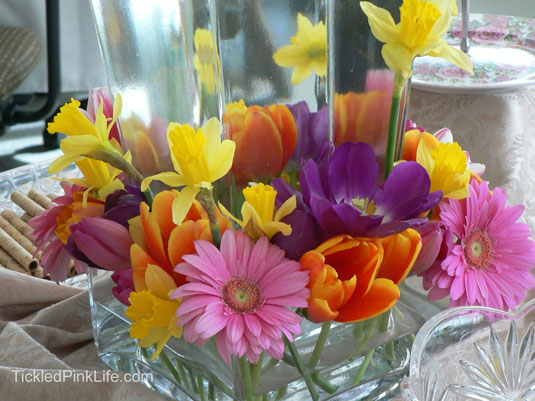 To display the flowers, I used a large vertical glass vase placed into a short square glass vase. Vibrant spring flowers placed around the base included daffodils, tulips, and gerbera daisies. Green button mums floated in the tall vase. This arrangement provided a simple way to give height without using too many flowers. The transparency of the large vase makes the base of the arrangement seem bigger, and the mums carry the color upward, which gives the arrangement height even though much of the arrangement is actually glass and water.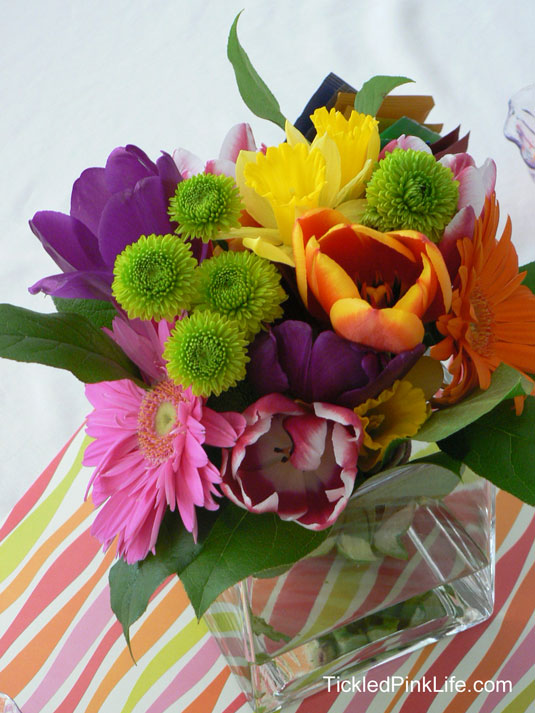 Table centerpieces consisted of short square glass vases containing the same flowers in colors of orange, pink, yellow and lime. To add some color, these were set on sheets of scrapbook paper. Vases and paper can be purchased at your local craft store. One of my favorite online retailers is Save-On-Crafts. The items are fabulous, the prices are reasonable and the service is great!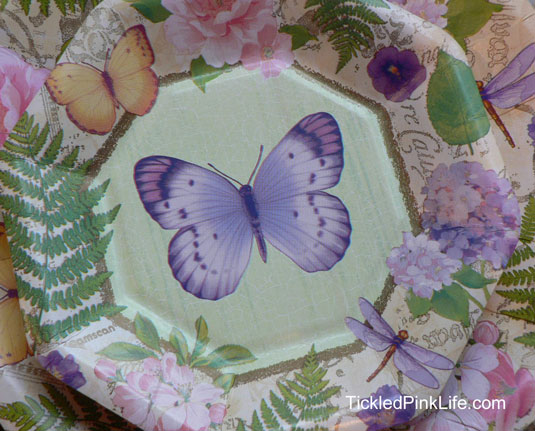 We served both hot and ice tea, and we used disposable paper plates, cups and napkins in a spring design of similar colors.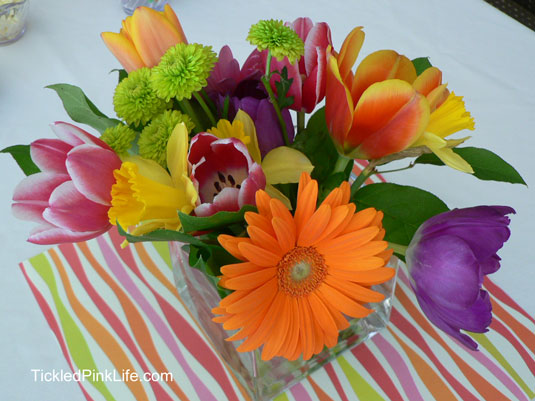 Flowers in vibrant colors, delicious scones, tasty tea sandwiches, and a cup of Earl grey–what better way to celebrate a new birth than the essence of spring?
I'm linking up today at A Holiday Haven!

On the journey toward Home,