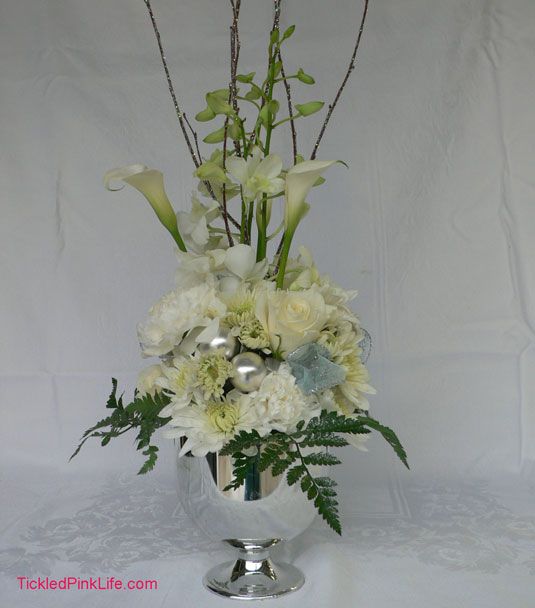 My sister Lori and I are making Winter Wonderland-themed table arrangements for a Christmas party, so I thought I'd bring you all along for a peek, so you can see how these were put together!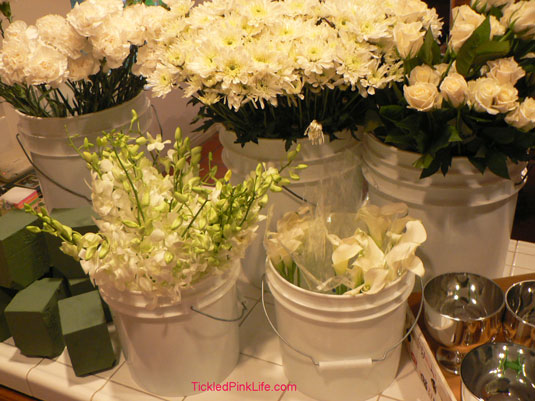 Step 1—Prepare flowers. We started with a variety of white flowers to go with the winter theme. First we remove foliage from the base of the stems. Then we cut about 1-2 inches off the bottom of each stem and immediately place the flowers in a bucket of water containing floral food. Giving the flowers a fresh cut allows them to take up more water before they are used. The floral food helps to preserve them. We use Aqua Plus fresh flower nutrient (follow the directions on the container for the right food-to-water ratio). Proper floral hydration is the key to insuring that your flowers will last as long as possible. We generally let them hydrate for about an hour or so.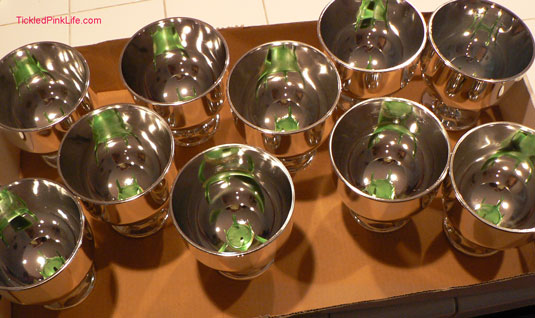 Step 2—Prepare vase. We chose silver footed goblet vases, to complement the white winter theme, and placed a plastic frog in the bottom of each, securing it with appropriate floral glue.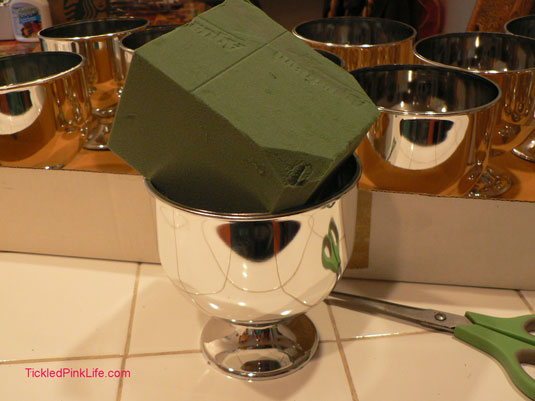 Step 3—Prepare oasis. Next, we determined the size and shape of the oasis we needed, and then cut the blocks to fit our goblet vases, making sure that we would have about an inch or so of exposed oasis, to allow sufficient space to insert the base flowers.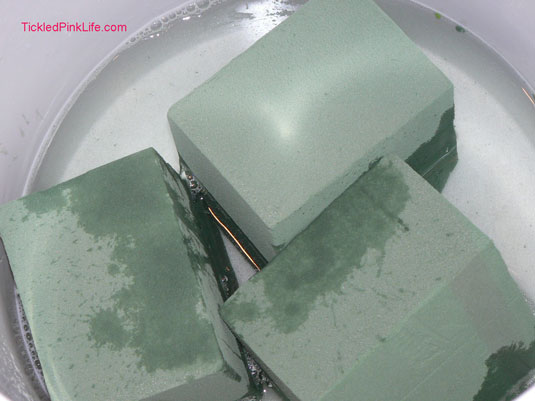 Step 4—Soak oasis. Once the oasis blocks are cut, they are soaked in another bucket of water, which also contains floral food. The blocks will float until they are fully statured with water. If you try to hurry the process and force them underwater, the outsides will absorb water, but the insides will remain dry.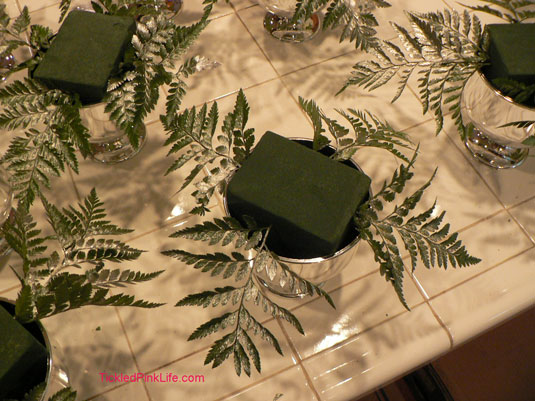 Step 5—Green up. Now we start with the foliage and use it to create a base. For our arrangements, we used leather fern and lightly sprayed the ends with silver floral spray paint (for flowers), to give it sort of a frosted look.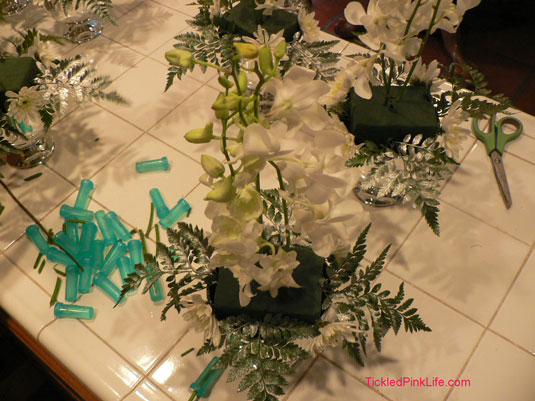 Step 6—Determine shape. We define the design space by filling in our line flowers. These are the stems which are placed to create the overall shape of the arrangement. We used dendrobium orchids in the center to determine the height, and placed a loose circle of carnations, mums and roses at the vase edge to determine our width.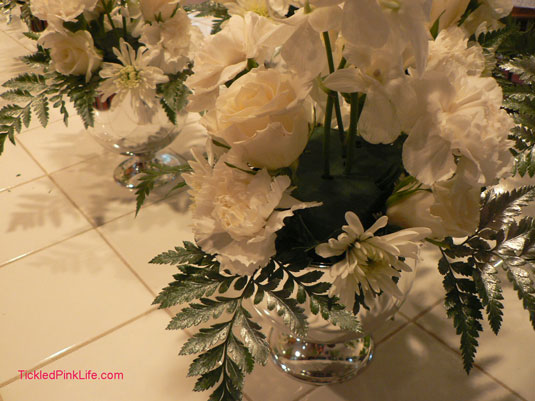 Step 7—Fill in. We then fill in the center area, continually turning the arrangement, so that we can make sure that flower placement remains balanced.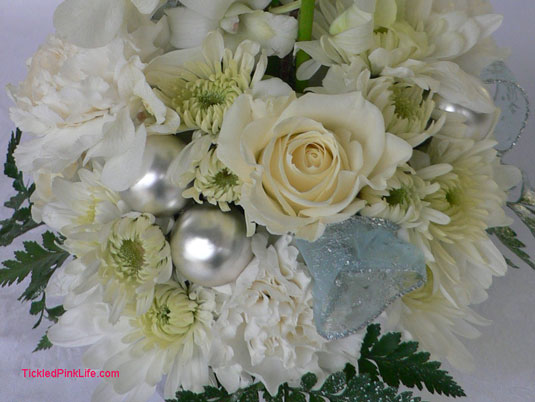 Step 8—Add ornamentation. In keeping with the Winter Wonderland theme, we used some silver matte ornaments and a light blue and silver snowflake wired ribbon. Both were attached to wire and wrapped with white floral tape.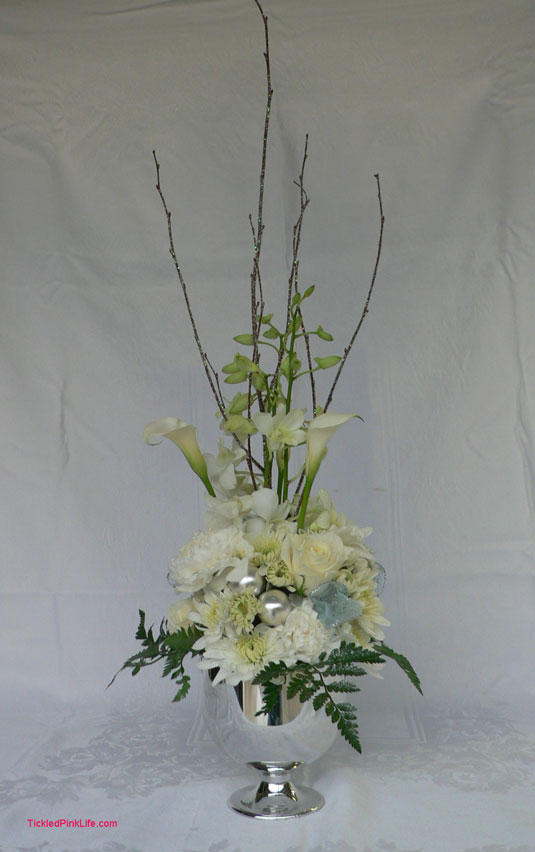 Step 9—Finishing touches. Lastly we placed some icicle birch branches straight up the center to complete the Winter Wonderland theme.
Step 10—Final spray. When the arrangement is completely finished, we apply a finishing spray, to help seal in the moisture (we use Finishing Touch by Floralife). This last step will keep our arrangements looking fabulous for several days.
Well, that's it-in a nutshell; ten simple steps to creating an elegant Winter Wonderland themed Christmas floral arrangement!
I am linking up today for Top Ten Tuesday and Tip Me Tuesday!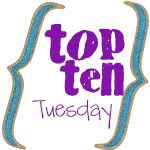 On the journey toward Home,