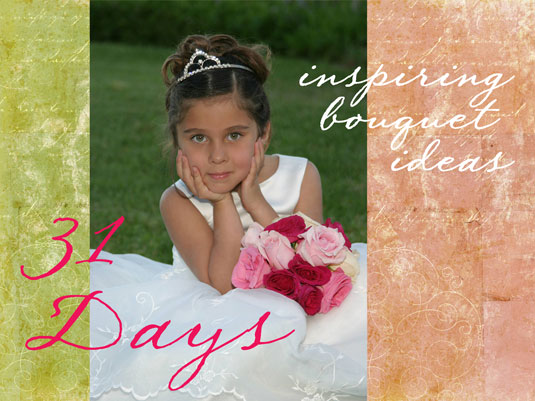 So I'm off on another adventure! Well, I'm not really going anywhere per se, but I am starting somewhat of a blogging adventure. Now I know many of you are already familiar with 31 Days, so I'm guessing you've probably already got your plan all carefully laid out! I on the other hand, being a new blogger, am generally a bit clueless about these things until the last minute. Today would be no exception, because I didn't learn about 31 Days until nearly noon TODAY! So despite the fact that I am already dreadfully behind, I decided to throw caution to the wind and jump in with both feet! Okay, so maybe I jumped in while still holding onto the side, but I am mostly in the water, so to speak. For the few of you who have no idea what I am babbling about, 31 Days was started a few years back by a group of bloggers, including The Nester, who chose a single topic to write about every day in the month of October. Wow! That is a challenge! Since I normally post about every 7-10 days, I'd need to find a topic that I could be reasonably sure I'd be able to keep up with. So, I had some coffee and set my mind to finding a group of 31 somethings that I could write about and share with you. Let's see, something helpful…something crafty? Hmm…this was going to be harder than I thought….so I called my sister!  "Lori, what do I have 31 pictures of?" "Um, how about bouquets?" "That's a swell idea!" Ladies are always collecting wedding information and ideas for flowers and décor, and we had a whole slew of pictures we could share! And voila! 31 Days of Inspiring Bouquet Ideas was set in motion!
My sister owns The Gardens at Pemberley, where she is a part-time wedding/event florist, and I am her un-paid assistant! (Yep, that's what family is all about—although she does buy me a triple vente latte on the way to the flower market at 0-dark-hundred…)
So, what will I be covering over the next 31 Days? I will feature a daily bouquet, describing the flowers, the color scheme and the design, and discuss any details about style and materials as needed. Some posts may also focus on additional wedding décor and/or venue if the wedding theme was particularly interesting. Most of the bouquets will be from our own portfolio, but I may sneak in a few others as well! (shhh, don't tell Lori!)
Since you'll most likely be following several of the 31 Days blogs (at last count there were over 500 linked up!), I know you won't have much time when you stop by, so posts will be fairly short and to the point!
I will still be writing a few regular posts this month, so on those days I will be posting twice, but you should be able to find all the bouquet posts in this series, in the category 31 Days: Inspiring Bouquet Ideas. So please join me in this little blogging adventure! You might just find some pictures for pinning…oh, don't get me started!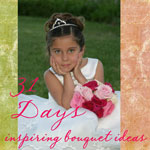 On the journey toward Home,