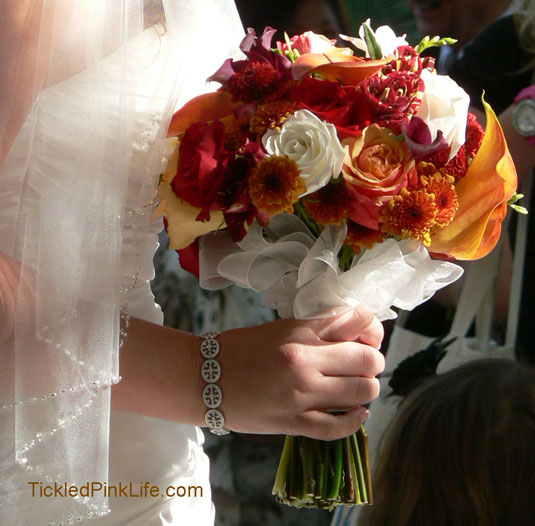 Welcome to day 14 of my 31 Days of Inspiring Bouquet Ideas! This gorgeous bouquet is one that we cannot take credit for, but it was so lovely that I had to share it with you. The flowers in this fall design include four shades of roses in orange, white, red and what I call a "peppermint" which is a red and white striped variety. Additionally there look to be four shades of calla lilies in yellow, orange, burgundy and dark purple. White freesias and rust colored mums fill in this round bouquet. The base is encircled with ecru colored organza tufts, which we were delighted to see, since we like to base round bouquets with tufts as well! The stems appear to be wrapped in an ecru colored ribbon and lastly, there appears to be a bronze or gold antique-looking broach pinned to the handle.
I took the above photograph a few weeks ago, when my sister Lori, my niece and I were wandering around Balboa Park in San Diego. If you've never been to Balboa Park, it is a picturesque haven for bridal photographers, not to mention an exquisite venue for weddings.  We were walking past the Casa del rey Moro garden, where this bride and her party were assembled just prior to the start of her ceremony. Since they were all in a public walk way, we stopped near them to unobtrusively admire and discuss the contents of her bouquet. I had my camera with me so I surreptitiously snapped photographs as quickly as I could before the poor bride could begin to think we were stalking her. I was able to zoom in enough to get this great shot of her bouquet, the design of which I am sure, will make its way into our repertoire!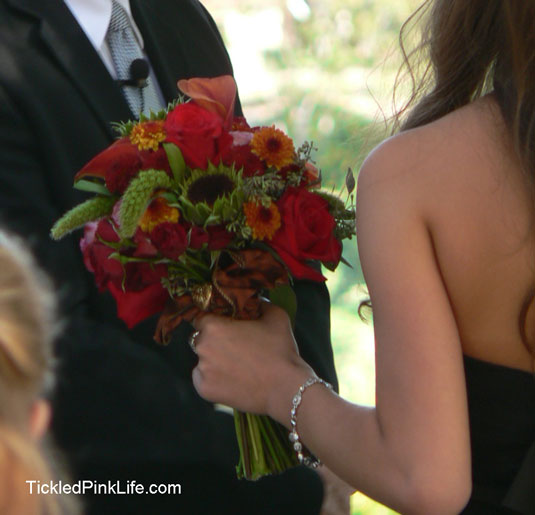 The maid's bouquet was in similar fall colors and included red and orange roses, the peppermint striped roses, orange calla lilies, sunflowers and some bristly things I couldn't identify! Her bouquet sported some bronze colored French ribbon bows with an attached gold locket or broach of some kind.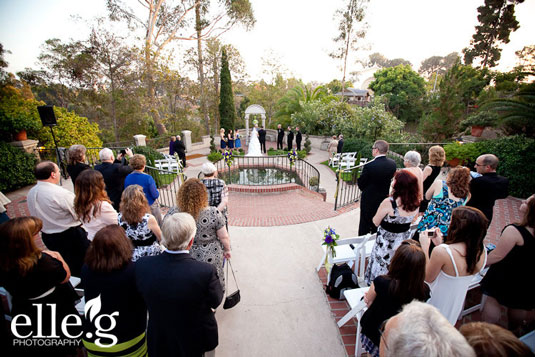 The venue for this wedding was exquisite. Most of the original buildings in Balboa Park were built for the 1915 Panama California Expedition. The Casa del rey Moro is a terraced patio garden designed after the Moorish Gardens of Ronda, Spain. This image (of a different wedding) from elle. g Photography, shows the unique beauty of this historical ceremony site.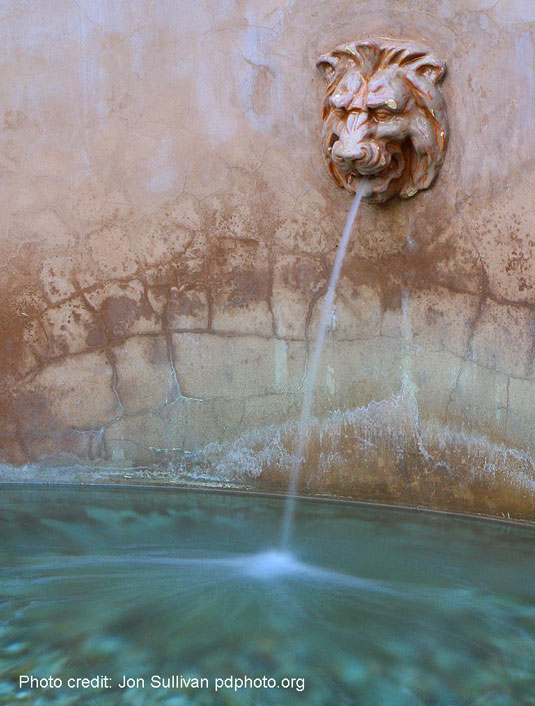 Photographer Jon Sullivan captures the Moorish influence in the detail of this fountain located on the lower tier of the garden. Interested brides can find more information about the Casa del rey Moro and other beautiful Balboa Park locations by visiting BalboaParkWeddings.com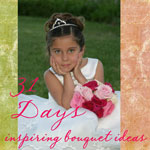 Be sure to join me tomorrow for roses and stephanotis!
On the journey toward Home,