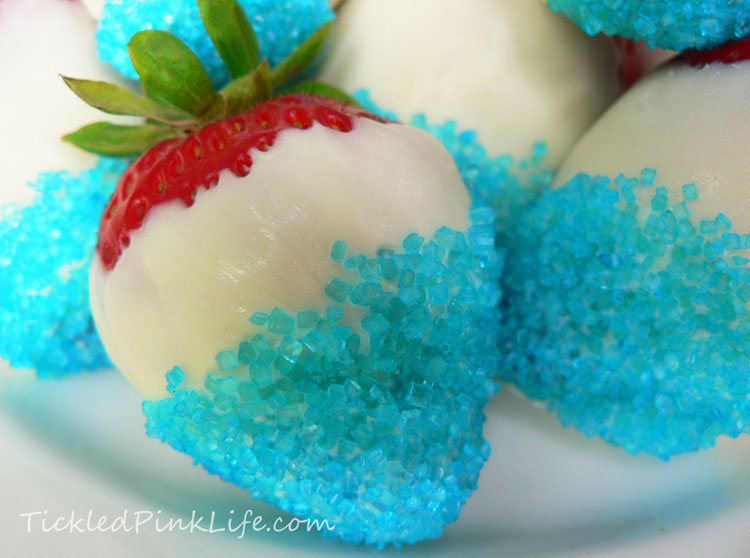 I saw this idea on Pinterest and thought it looked like an easy-to-make treat for the Fourth of July!
These are just chocolate dipped strawberries with a dab of sugar sprinkles.
Here's what I used:
-Two containers of strawberries (about 40 pieces)
-One 11 ounce package of Ghirardelli white chocolate baking chips
-About 5 ounces of blue sugar sprinkles
-Wax paper
Here's what I did:
Washed and dried the strawberries
Melted the white chocolate chips. You can do this on the stove top or in the microwave. I used the microwave, in 15 second intervals, stirring in between until the chocolate had a smooth consistency. Be sure not to overheat. The chocolate should not be hot, just warm enough to be melted.
Dip the strawberry into the chocolate about 2/3 of the way up, and set on wax paper. Because these will be set on their sides, the chocolate will solidify with a flat bottom. This can be a good thing because they will sit nicely on a plate without rolling all around. However, if you'd rather they be evenly dipped on all sides, you might try to find a way to hang them while the chocolate hardens. Hmmm… As I'm typing, I was thinking that maybe Barbie could help us out with this if only she had some little clothespins we could borrow… Whoops, thinking out loud again! But seriously, a strawberry hanging apparatus is an interesting idea, and one that I'll have to look into next time!
Okay, back to work. As the chocolate cools, it will begin to harden. When the consistency is still a bit sticky, gently roll the bottom 1/3 of the strawberry in the blue sugar and set again on wax paper. I found that gently rolling works a bit better than plunging it into the sugar, as the latter method causes the chocolate to kind of bunch up on the end.
So basically, this is a two-dip process. It works best if you dip in small batches so you can get to the sugar before the chocolate solidifies completely. If the chocolate is completely solid by the time you get to the sugar dip, you can apply a bit of warm water to the bottom third to melt it just enough so the sugar will stick.
Once I got the timing down for the second dip, the process went pretty smoothly. These are easy to make and will provide a colorful dessert for your Fourth of July Celebration!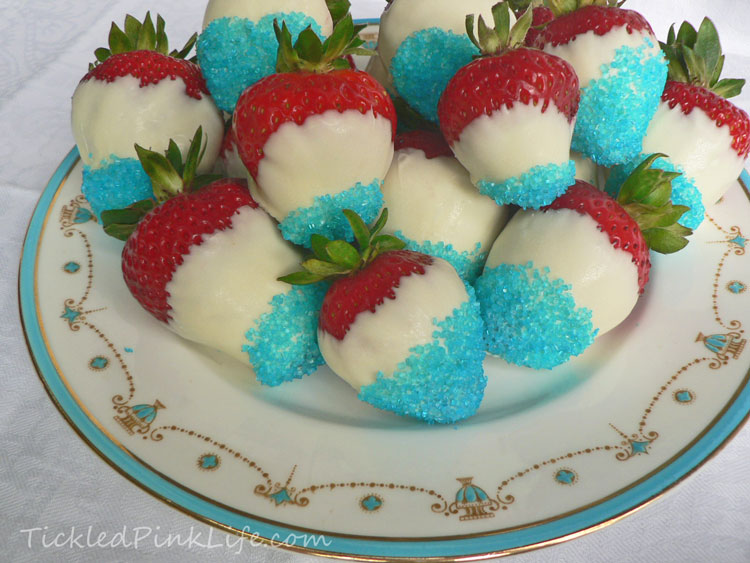 On the journey toward Home,
{ 0 comments }